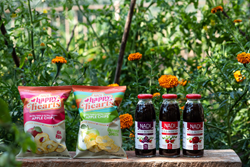 ATLANTA (PRWEB) November 24, 2020
NADI, the creator of the first and only USDA certified organic wild rosehip juices, is excited to introduce another delicious and healthy all-natural product: NADI Happy Hearts apple chips.
NADI Happy Hearts Apple Chips are never fried, baked, cooked or freeze-dried. NADI Happy Hearts are sliced ultra thin and dried with advanced techniques that make them super crunchy, and those methods were inspired by Old World Georgian traditions of naturally preserving freshly harvested fruit, called chiri.
Each purchase of NADI Happy Hearts and NADI Wild Rosehip drinks helps the company advance its mission to strengthen local communities. As a social venture, NADI creates job opportunities for refugees in the country of Georgia who have been displaced by regional conflicts and supports farmers who practice sustainable growing and harvesting techniques.
"NADI Happy Hearts apple chips are a delicious way to nourish our bodies and also support our mission of creating opportunities for economic mobility for refugees and farmers who work hard to produce the foods we eat," said Nina Tickaradze, Founder & CEO of NADI.
Tickaradze founded NADI to revive the ancient Georgian health tradition of rosehip juice, which dates back hundreds of years when people would forage and hand-pick berries from wild rosehip bushes and steep them to make tea-like drinks that are full of Vitamin C, flavonoids, polyphenols, antioxidants and dozens of other beneficial nutrients.
NADI Happy Hearts are another addition to the company's lineup of healthy offerings. The apple chips are naturally vegan, gluten free and fat free, and we only use non-GMO apples so you can feel good about sharing them with family and friends. Like all NADI products, Happy Hearts never contain added sugar or artificial ingredients.
NADI Happy Hearts are made with just one ingredient — apples. They are available in two delicious varieties, Granny Smith and Ida Red, and we leave the peels on the apples so you get all the health benefits of the whole fruit. Apples are a great source of fiber, iron, potassium and numerous other vitamins and nutrients.
NADI products are available at more than 500 retailers in the United States, including The Fresh Market stores and select natural food retailers, co-op stores and boutique local businesses. NADI rosehip drinks and Happy Hearts dried apple chips can also be purchased online at getnadi.com.
Contact for NADI:
1-833-GET-NADI
nina@getnadi.com
ABOUT NADI
NADI is the maker of NADI USDA Certified Organic Wild Rosehip Drinks and all-natural Happy Hearts crispy apple chips. NADI is a social venture that creates jobs for displaced refugees and a WBENC certified woman-owned business founded by Nina Tickaradze, who is a native of the country of Georgia. The name NADI means "collective work effort" in the Georgian language to honor the refugees, family and friends who make our healthy products possible. To learn more, please visit http://www.getnadi.com.
# # #