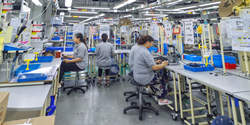 TROY, Mich. (PRWEB) September 14, 2020
This project at NAI doubled the existing part-specific capacity of the company's Hermosillo, Mexico facilities by establishing the same part production operations in Suzhou, China.
The immediate benefit of this project was to provide a customer with the extra insurance needed to meet critical production and delivery schedules during the uncertainties brought on by the Covid-19 pandemic. NAI's investment to create this dual production capacity solved a critical issue this customer had in meeting important delivery dates when they transferred business from a struggling supplier to NAI, demonstrating their trust and confidence in NAI to build the dual capacity and meet still their stringent deadlines.
This recent project exemplifies NAI's ability to allocate, split or duplicate customer production requirements among its various facilities utilizing its global manufacturing footprint. This footprint, coupled with NAI's global supply management team, allows the company to optimize production, add flexibility and employ alternatives for their customers' projects, while ensuring the uninterrupted delivery of finished goods.
Jon Jensen, CEO at NAI, reported "Our dedicated teams in Mexico and China worked quickly and diligently on this latest transition project, so that NAI was able to complete it in as little as 10 weeks, which can normally take a company up to a year to accomplish. NAI's global footprint provides a definite advantage for our customers looking to mitigate risk and remain focused on continuity of supply."
Mr. Jensen continued "There were many elements to plan and coordinate in order to accomplish this duplication of manufacturing capability in another part of the globe. We had language and time zone obstacles, although we turned these into an advantage as the plants in Mexico and China now each work alternate shifts to produce these parts around the clock for our customer. We needed to transfer all our well-documented production and test data from Mexico to China, as well as much of the material inventory. We also established a local supply chain and procured additional materials, supplies and equipment for Suzhou, and we calibrated and conducted the appropriate maintenance checks on all their production equipment. Our teams at both facilities worked tirelessly to meet, and exceed, the target deadline."
NAI invites any company interested in offsetting the production risks associated with custom interconnect projects that are inherent with unforeseen events, such as the current pandemic, to contact them. They will be happy to discuss how duplicate and alternative manufacturing facilities can ensure continued and smooth deliveries.
If interested in NAI's invitation to discuss how to offset the production risks from unforeseen events, Contact Us or Ask an Expert at NAI.
To learn more about NAI, please visit the NAI website.
About NAI
NAI is the most resourceful interconnect solutions provider customers count on to solve design, manufacturing, and logistics problems. Offering copper and fiber optic cable assemblies and harnesses, coupled with block assemblies, panel and box builds, NAI provides an unparalleled breadth of capability. Being remarkably scalable, flexible, and agile, NAI customer projects are brought to life very quickly, while meeting or exceeding expectations and delivering high reliability.
NAI strives for high integrity with customer relationships by providing notable transparency and delivering on promises. Product and market diversity, an extraordinary talent base and an ability to supply globally are distinct characteristics of NAI.
Only NAI provides this unique combination of company attributes, distinguishing them as the most reliable supplier of interconnect product solutions and expert service.