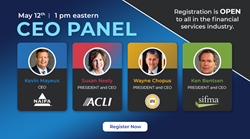 Our organizations are coming together to identify synergies where we can partner together to better serve Main Street Americans
FALLS CHURCH, Va. (PRWEB) May 06, 2020
CEOs of the four largest financial industry associations will explore the COVID-19 pandemic's impact on the economy and how they can coordinate efforts to help main street Americans, families and businesses. The panel discussion will take place on Tuesday, May 12, from 1:00-2:00 pm EDT via Zoom.
The panelists will be Susan Neely, President and CEO of the American Council of Life Insurers (ACLI); Ken Bentsen, President and CEO of the Securities Industry and Financial Market Associations (SIFMA); and Wayne Chopus, President and CEO of the Insured Retirement Institute (IRI).
Titled "Serving Main Street in a New Normal", the session's objective is "to create a conversation around what each association is doing to support their members and the industry and the importance of coming together and building synergies to support the industry," according to Kevin Mayeux, CEO of the National Association of Insurance and Financial Advisors, who will moderate the panel.
About:
The American Council of Life Insurers (ACLI) is the leading trade association driving public policy and advocacy on behalf of the life insurance industry. 90 million American families rely on the life insurance industry for financial protection and retirement security. ACLI's member companies are dedicated to protecting consumers' financial wellbeing through life insurance, annuities, retirement plans, long-term care insurance, disability income insurance, reinsurance, and dental, vision and other supplemental benefits. ACLI's 280 member companies represent 94 percent of industry assets in the United States.
The IRI is the leading association for the entire supply chain of insured retirement strategies, including life insurers, asset managers and distributors, such as broker-dealers, banks and marketing organizations. IRI members account for 90 percent of annuity assets in the U.S., include the top ten distributors of annuities ranked by assets under management and are represented by financial professionals serving millions of Americans. IRI champions retirement security for all through leadership in advocacy, awareness, research and the advancement of digital solutions within a collaborative industry community.
Founded in 1890, NAIFA is the oldest, largest and most prestigious association representing the interests of financial services professionals from every Congressional district in the United States. Our mission – to advocate for a positive legislative and regulatory environment, enhance business and professional skills, and promote the ethical conduct of its members – is the reason NAIFA has consistently and resoundingly stood up for financial services professionals and called upon members to grow their knowledge while following the highest ethical standards in the industry.
SIFMA is the leading trade association for broker-dealers, investment banks and asset managers operating in the U.S. and global capital markets. On behalf of our industry's nearly 1 million employees, we advocate for legislation, regulation and business policy, affecting retail and institutional investors, equity and fixed income markets and related products and services. We serve as an industry coordinating body to promote fair and orderly markets, informed regulatory compliance, and efficient market operations and resiliency. We also provide a forum for industry policy and professional development. SIFMA, with offices in New York and Washington, D.C., is the U.S. regional member of the Global Financial Markets Association (GFMA).