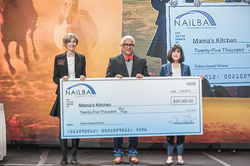 It's quite the honor and responsibility to hold the key to providing essential services to kids and their families. - Robin Landers, CLUPresident, NAILBA Charitable Foundation
FAIRFAX, Va. (PRWEB) September 11, 2020
The National Association of Independent Life Brokerage Agencies (NAILBA) announced that Jim Duff has joined the organization's Board of Directors.
Based in Harrisburg, PA, Duff is Senior Vice President and General Manager of Crump Life Insurance Services' Solution Centers for Annuities, Disability and Long-Term Care insurance, a member of the Crump Executive Team and is the President of Tellus Brokerage Connections, Inc. (a Crump company). His background includes over 20 years of executive experience in sales leadership and execution.
"Jim is a phenomenal addition to the NAILBA Board of Directors," said CEO Dan LaBert. "His deep industry knowledge will contribute to our strategic vision as we elevate NAILBA's value to the brokerage community, particularly during an unexpected economic and social era."
The NAILBA Charitable Foundation has also elected new officers and board members to begin their 2020 terms. The Foundation announced the following additions:
Michael "Slades" Sladek is National Sales Director with Mutual of Omaha. He is responsible for sales and marketing to industry-leading NMOs and BGAs and managing a team of seasoned sales professionals. Sladek is based in Houston, TX.
Philip Chuba is Vice President, Strategic Relationship Management for Prudential, where he effectively leverages Prudential's capabilities and resources to help firms achieve their goals. His objective is to help distributors develop strategies and tactics to drive profitable growth. Chuba is based in Minneapolis, MN.
Blair Farwell RHU, REBC, is the President and owner of Resource Brokerage, LLC. Blair has been in the insurance industry for 25 years. He has built a multi-line wholesaler with 30 employees, with specialized divisions focused on group benefits, individual medical, Medicare products, life insurance, LTC Insurance, and individual DI. Farwell is based in Schaumburg, IL.
Andrew Hamill, CLU, ChFC, Vice President of Regional Sales at Legal & General America, is responsible for leading the company's wholesaling in the BGA distribution segment, which includes the development and execution of strategies and initiatives to drive growth, improve LGA's competitive positioning, and deepen relationships with distribution partners. Hamill is based in Charleston, SC.
Foundation Board Members continuing their service in 2020 include:

Robin Landers, Landers-Stein & Associates, Inc., Miami, FL (Foundation President)
Barbara Crowley, Brokers Clearing House, Ltd., West Des Moines, IA (Foundation Secretary/Treasurer)
Alan Protzel, The Marketing Alliance, St. Louis, MO (Immediate Past President: 2017-2018)
Pete Chrisos, Protective Life Insurance Company, Hoffman Estates, IL
Dan LaBert, NAILBA, Fairfax, VA (Ex-officio)
John Gilbert, CFP (NAILBA Secretary/Treasurer & Foundation Grants Review Committee Chair)
Andrew Hamil, Legal & General America, Frederick, MD
Allen Bress, AIM Marketing and Insurance Services, Fountain Hills, AZ
Danny Brooks, Southern Insurance Group, Cookeville, TN
Melanie Carter, ExamOne, Denver, CO
Sam Corey III, The Brokerage Resource, Durham, NC
Michelle DeClerck, CMP, Conference Event Management, West Des Moines, IA
Hope Howard, Broker World Magazine, Overland Park, KS
Craig Klenk, American National Insurance Company (ANICO), Houston, TX
Scott Weilage, Weilage Advisory Group, Mankato, MN
The NAILBA Charitable Foundation offers members and business partners a concrete way to help those most in need in their local community. In 2019, the Foundation was honored to raise more than $227,000, distributed to 29 community organizations nationwide, and has given over $3 million in grants since its creation in 2002.
"It's my pleasure to continue raising money to give it away. Our 2020 fundraising goal of $300,000 could help so many worthy organizations. Often, we are the largest grantor to smaller non-profits that really couldn't do without us. It's quite the honor and responsibility to hold the key to providing essential services to kids and their families. Our donors would happily go without a premium cup of coffee each week so that a child gets food on their table," stated Foundation President Robin S. Landers, CLU.
##
About NAILBA
The National Association of Independent Life Brokerage Agencies (NAILBA) is the premiere insurance industry organization promoting financial security and consumer choice through the use of independent brokerage distribution. NAILBA serves as the national association of life, health and annuity insurance distributors. For more information visit http://www.nailba.org.
About The NAILBA Charitable Foundation
The National Association of Independent Life Brokerage Agencies (NAILBA) Charitable Foundation is the philanthropic arm of NAILBA, a registered 501(c)(3) charitable organization that receives gifts mainly, but not exclusively, from the membership of NAILBA and its corporate supporters. The mission of the NAILBA Charitable Foundation is to encourage volunteerism among the NAILBA membership and provide grant funds to worthy charitable organizations with limited operating budgets in local communities served by member agencies, with a special emphasis on those that enhance the quality of life for children. For more information visit http://www.nailbacharitablefoundation.org