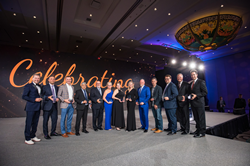 "The outpouring of incredible stories and contributions speaks volumes about the positive impact of the NAILBA membership on our profession." - Dan LaBert
FAIRFAX, Va. (PRWEB) November 30, 2021
NAILBA, the Voice of Independent Distribution (ID), has announced the 2021 recipients of the ID Twenty Awards. Now in their third year, the ID Twenty Awards honor Independent Distribution's most courageous innovators and visionaries, who have made important contributions to the insurance profession.
"For yet another year, NAILBA received dozens of nominations for the ID Twenty awards, celebrating the best of BGA principals, carrier executives, case managers, contract specialists, regional vice presidents, underwriters, techies, marketing and operational gurus," said NAILBA CEO, Dan LaBert. "The outpouring of incredible stories and contributions speaks volumes about the positive impact of the NAILBA membership on our profession."
The winners of the 2021 ID Twenty Award are:

Tim Bellig, Managing Principal, Vanbridge, an EPIC Company
Patrick Bowen, Co-Founder and CRO, InsurAware
Brian Duncan, CEO, Duncan Advisor Resources
Matt Essick, Chief Marketing Officer, Ensight
Blair Farwell, President and CEO, Resource Brokerage, LLC
David Fenimore, Chairman of the Board, Insurance Technologies
Scott Fergusson, Chief Executive Officer, Techficient
Paul Garofoli, Regional Sales Director, The Standard
Eric Griffin, Executive Vice President, The Cason Group
Angie Hughes, Managing Partner, Producers XL
Krish V. Krishnan, Founder and CEO, Magnifact
Jeff Levin, Vice President of Sales, Care Solutions, OneAmerica
Marjorie Ma, Head of Life Insurance Product Management, AIG
Mike Pepe, Founder, Proformex
Rachel Sachs, Vice President, Life Operations, Advisors Excel
Scott Safranek, National Sales Manager, American National
Bobby Samuelson, President, Life Innovators, Executive Editor, The Life Product Review
Jim Sorebo, SVP of Sales, Highland Capital Brokerage
Matt Szychulski, National Account Vice President, John Hancock
Kim Wilcox, Director of Service and Underwriting, Innovative Underwriters
Award winners were acknowledged on the main stage at NAILBA's in-person annual conference, NAILBA 40, on Tuesday, November 16, 2021. They will also be spotlighted in NAILBA's Perspectives magazine in the first quarter of 2022. More information about each of the winners can be found within the honorees section of NAILBA.org.