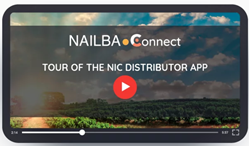 "We've been on a mission to create an in force data platform for independent distribution and carriers."
FAIRFAX, Va. (PRWEB) November 30, 2020
The National Association of Independent Life Brokerage Agencies (NAILBA) has announced the addition of NAILBA·Connect to its suite of benefits for the life insurance and annuities community.
NAILBA·Connect is a partnership between NAILBA and Insured Connect's NIC platform and represents just one of the ways NAILBA is closing the coverage gap on 40 million uninsured and 40 million underinsured households between the United States and Canada. Included in NAILBA member dues, the subscription provides access to in force data from multiple carriers and the ability to view current books of business.
"There's very little digital engagement in the life insurance industry," Rick Hyde, CEO and Founder of Insured Connect, told NAILBA 39 emcee Katie Fehlinger. "We've been on a mission to create an in force data platform for independent distribution and carriers."
Features of the NAILBA·Connect platform include:

Distributor/BGA in force policies
Office & business unit profiles & in force policies
Agent profiles & in force policies
Policy owner profiles & in force policies
Search & filters data insights
Sales & service opportunities
Management tools
Distributor/BGA staff access
Distributor ambassador
Distributor resource center
Static content sharing with agents
"The tools and resources available through NIC offer a unique advantage to wholesalers and advisors, putting them in a position to see and filter their entire book of business, all at the click of a button," said Nathan Jacobson, Executive Vice President at Simplicity Life. "From term conversion opportunities to identifying policies that are at risk of lapsing, NIC puts agents and wholesalers in a better position to service existing business and find growth within their book."
Learn more about NAILBA·Connect at https://www.meetnic.com/nailba-connect.
About NAILBA
The National Association of Independent Life Brokerage Agencies (NAILBA) is the premiere insurance industry organization promoting financial security and consumer choice through the use of independent brokerage distribution. NAILBA serves as the national association of life, health and annuity insurance distributors. For more information visit http://www.nailba.org.
NAILBA 39: ENGAGE is a multi-day virtual conference offering both live and OnDemand content. Learn more and register for future dates at https://nailba.memberclicks.net/nailba-39-engage.
About Insured Connect
Insured Connect is an insurance technology company that leverages life and annuity data to connect Carriers with Policy Owners, helping them save money, increase revenue and meet compliance standards.