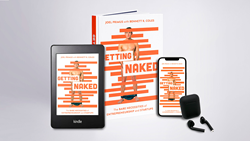 "I highly recommend entrepreneurs read Getting Naked! In fact I think my first startup would have gone much differently if I had this book prior to starting. It's a ton of fun, informative, honest and touching." John Finley New York Based Entrepreneur and Finance Executive
AGASSIZ, British Colombia (PRWEB) February 08, 2021
Entrepreneur Joel Primus, the man behind the Naked Brand Group and its flagship line of men's and women's underwear, shares the secrets of starting a business in his acclaimed new book, Getting Naked (DEKAN Publishing). The book, will be available on Audible, Kindle and Paperback version on February 1, 2021, is not just a must-read for future startup business owners, it's also a raw and honest memoir that reveals the professional and personal struggles of a the life of an entrepreneur and delves into the critical questions we should be asking ourselves on our own life's' journey.
The seed that gave root to Getting Naked was planted more than a decade ago when Primus began to keep a diary of his journey from small-town, long-distance runner in Abbotsford, British Columbia to New York City businessman with a company selling its products in high-end retailers such as Nordstrom, Bloomingdale's, Holt Renfrew, Hudson's Bay Company, Saks Fifth Avenue, and Dillard's. Eventually, Naked Brand Group would go public on the Nasdaq Stock Market.
For the budding entrepreneur, Getting Naked provides key advice and guidance, including:
When and how to start your business
How to raise money
How to build teams and hire employees
How to develop a solid brand
Objective-based operations and marketing
But what makes Getting Naked more than just a business 101 tutorial is Primus' soul-baring storytelling. He peels back the layers of the personal sacrifices required of an entrepreneur. He explores the vital links between mental health, family, and finding balance. He shares his experiences on learning to stay true to himself in the middle of the business-building firestorm.
"Entrepreneurship is a journey of self-discovery," says Primus, "and through my challenging, sometimes devastating, experiences I share balanced perspectives, powerful mind shifts and simple yet effective strategies that will help you start and grow your business, as well as thrive as the human being you want to be."
Writing Getting Naked with Bennett R. Coles was a natural progression for Primus, who parlayed his success with Naked Brand Group into becoming the co-founder of Kosan Travel, a travel clothing company, as well as a respected personal and professional life coach and startup consultant.
"One of my missions is to change how people view entrepreneurship and to discover what is truly important and meaningful in life," he says. "Entrepreneurs today struggle with anxiety, depression and overwork. We're getting sicker and living more and more unfulfilled lives. I know, and I share my personal stories of ending up in hospitals from work stress and exhaustion."
Through it all, Primus' business philosophy, his can-do attitude, carried him through the trials of newfound entrepreneurship. In Getting Naked, Primus sheds light on how he connected with A-list celebrities – from NBA champion Dwyane Wade to fashion super model and television show host Heidi Klum – and raised more than $17 million marketing and selling men's boxer briefs he designed himself. His journey is as revealing and reassuring as the very product that launched his career.
###
About Joel Primus Entrepreneur Joel Primus is the founder and creative visionary of Naked Underwear, which began in 2008 from his apartment in small-town Abbotsford, British Columbia. He would transform Naked Brand Group into a multi-million-dollar company with A-list celebrity endorsement and public trading on Nasdaq. Primus parlayed that success into co-founding travel clothing company Kosan Travel, becoming a published author (Getting Naked), and working as a personal and professional life coach as well as a startup consultant. Follow Primus on Instagram, Facebook, and LinkedIn.
Contact: Natasha Zolotareva
n@natashazo.com