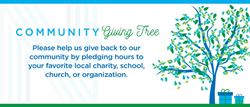 Our practice is committed to improving the health and quality of life for those in our community.
FRESNO, Calif. (PRWEB) November 01, 2018
Two local orthodontists launched a new charitable program to encourage the community to volunteer their time and efforts to help the Fresno community thrive and give back to those in need. Drs. Greg and Nicole Nalchajian of Nalchajian Orthodontics invite the local community to join them in the pledge to volunteer by participating in their first annual Giving Tree program.
While volunteering is often known as one of America's "core values," studies show that volunteer rates in the United States have reached their lowest point in more than a decade, according to the Bureau of Labor Statistics. The rate of United States volunteerism dropped from 29 percent to 25 percent. Many organizations say this rate is alarming. Volunteers are such an important asset for many organizations, and this could threaten the existence of several nonprofits locally and nationally.
Every current Nalchajian Orthodontics patient who volunteers at any local charitable organization of their choice will be entered into a drawing to win $500 to donate to a charity. New patients will receive a $20 credit towards their treatment for every hour of volunteer service they complete with a maximum of 10 hours and $200 towards treatment.
"Our practice is committed to improving the health and quality of life for those in our community," Dr. Greg Nalchajain said. "By giving back, volunteers gain new skills, expand professional networks, and stay connected with their community. It's when we come together to give back that we have the opportunity to make a real difference and change lives in our community."
As part of the Giving Tree program, Nalchajian Orthodontics invites the community to join them on Sunday, December 2, from 11 a.m. to 1 p.m. on their Day of Giving at the Poverello House to help provide meals to the homeless.
To learn more about the Giving Tree program, find out about local volunteer opportunities, and for individuals interested in signing up to volunteer at the Poverello House, visit: https://nalortho.com/givingtree/.
About Nalchajian Orthodontics
Nalchajian Orthodontics provides a full scope of orthodontic care and uses state-of-the-art advances to offer a variety of treatment options. Drs. Greg and Nicole Nalchajian, both certified by the American Association of Orthodontists, specialize in braces, adult orthodontics, Invisalign and retainers. Nalchajian Orthodontics provides services in Fresno and Clovis, CA.