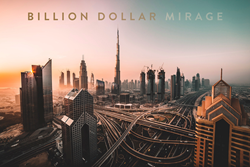 Los Angeles, CA (PRWEB) November 05, 2018
Name Lending Films has announced today that it has secured funding for its premiere project, BILLION DOLLAR MIRAGE, the remarkable personal account of one of the largest financial scandals in history. Set in Saudi Arabia the feature length film is an adaptation of American banker Glenn Stewart's soon to be published autobiography, Never Do Business With Princes or Kings. With casting underway, and funding in place from aX Films and other private equity sources, production for the action thriller is set to begin in early 2019.
The project centers around the remarkable true story of a brash, Oxford-educated young American who moved to Saudi Arabia on a quest for wealth and adventure. In 1989, Stewart landed a job with a prominent Saudi family and worked with them to create a vast banking empire, which successfully cash-flowed over $330 billion dollars from more than 100 banks worldwide. As the global credit meltdown destabilized the world economy, billions of dollars of debt were quickly exposed as fraudulent and everything Stewart had built for himself and his family began to unravel. Stewart found himself at the epicenter of a $126 billion credit default scandal, a fugitive from the law, and on the run from the ruthless Saudi authorities. After being arrested at the airport, trying to flee with his family, Glenn enlists the help of two ex-CIA operatives and executes a daring and at times surreal escape from the Kingdom. Evading capture from the billionaire brothers seeking his destruction, Glenn quickly discovers that his enemies can follow him back to the United States where he was sued for fraud for over nine billion dollars. This epic story stunned the world, making headline news across the pages of the world's leading news outlets from The New Yorker to the Wall Street Journal.
"This is a story that needs to be told, from my vantage point, to reveal what was really going on in Saudi Arabia and the entire region - and still is to this day. You think that Wall Street had it bad at the time? That was nothing compared to my experience," said author Glenn Stewart.
"Was Glenn Stewart the architect of one of the largest banking frauds in history, or an unwitting accomplice to the out-of-control financial ambitions of a corrupt Saudi family? We aim to answer this question with a true story that destabilized the entire international banking world and left the Middle East changed forever," said producers Johnny Martin and Jason Wulfsohn. "We cannot wait to bring this inside-look action thriller to life."
The film is set in Saudi Arabia and Bahrain, with spectacular locations across the Middle East, that take us inside a never-before-seen world of impossible opulence and startling corruption, a walled-off world of luxury and privilege where the King's word is absolute.
Jason Wulfsohn (TRACING COWBOYS, THE BONE SNATCHER) and Johnny Martin (HANGMAN, VENGEANCE: A LOVE STORY) are set to produce the film, with a combination of equity investors, including LA-based aX Films, as well as soft money. Elaine Grainger (INCEPTION, HITMAN'S BODYGUARD) has been newly appointed casting director and T.Y. Kim has been tapped as screenwriter.
About Name Lending Films:
Founded in 2018, Name Lending Films, with key partner aX Films, plans to ramp up film production in 2019. With a focus on quality and commercial appeal, Name Lending Films expects to bring a slate of unique and compelling stories to the big screen for worldwide audiences, starting with its first feature film project BILLION DOLLAR MIRAGE.
About aX Films:
Launched in 2014 by Jason Wulfsohn and Reeve Benaron, and with significant independent financing as well as expertise in data-driven communications and advertising technology, aX Films is poised to reimagine content production in today's shifting media landscape. Based in Marina Del Rey, and with offices in ten cities throughout North America, aX Films works with many of the world's leading brands and agencies.
Press Contact:
Sarah Wilkinson | Jive PR + Digital
sarah.wilkinson@jiveprdigital.com | 519-588-0450