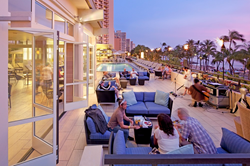 Our opening glass wall systems allow hoteliers to quickly and easily reconfigure the space to accommodate abrupt changes in weather, yet maintain a memorable indoor/outdoor experience.
Las Vegas, NV (PRWEB) May 04, 2017
NanaWall Systems, the pioneer of opening glass wall systems, will attend the Hospitality Design Exposition from May 3-5 in booth 2571, showcasing how its opening glass walls elevate the architecture and design of a hotel or resort to provide a luxurious, premier experience.
"Our opening glass wall systems allow hoteliers to quickly and easily reconfigure the space to accommodate abrupt changes in weather, yet maintain a memorable indoor/outdoor experience," said NanaWall Systems CEO Ebrahim Nana. "During chilly mornings, the closed glass walls offer beautiful, unobstructed views. Once it warms up, the dining area or lobby can be opened up to the outdoors, letting in the fresh air and blurring the line between the indoors and out."
TWEET THIS: At #HDExpo2017 booth 2571, @nanawall showcases how its glass wall systems accommodate all #weather types https://www.nanawall.com/applications/hotels
For over 30 years, NanaWall has offered durable, long-lasting glass walls for flexible configurations and superior weather performance. Here are a few other commercial options provided by NanaWall:

Cero®: Through the new system "cero," NanaWall introduces a brand new category to the industry—minimal framed, large panel, sliding glass walls. Cero offers full floor to ceiling sliding glass panels with recessed top and bottom tracks and, though they are extremely heavy, can be opened and closed with a pinky. The minimalist design lends to a modern aesthetic due to its clean, uniform, thin lines.
ClimaCLEAR™: ClimaCLEAR is the only frameless all-glass individual panel sliding system specifically engineered for transparent weather protection while providing maximum views and unobstructed sightlines. The weather resistance of the panels comes from a combination of several technical attributes such as the patent-pending Panel Interlocks and the transparent weather seals between the panels that seal the wall against wind-driven rain and reduce air infiltration.
RemoteSTACK™: A new feature by NanaWall, RemoteSTACK allows architects to free up valuable space in the floor plan by stacking panels away from the traditional opening, giving architects control to design around structural obstacles and remove the panels from view to create a pure opening. This feature is available across all HSW series glass walls including aluminum, solid wood and frameless designs.
NanaWall Shades: NanaWall Systems is the first and only company in the industry to offer an integrated shade solution for opening glass wall systems. Designed specifically for NanaWall, the NanaWall Shades are custom fitted to each panel and provide ultimate control of sun exposure and privacy, without losing the aesthetic of the NanaWall.
For a variety of hospitality projects, please visit "Commercial Applications" on the NanaWall website.
About NanaWall Systems
For over 30 years, NanaWall Systems has pioneered the category of opening glass wall systems. The company has earned the trust of architects, builders, design professionals and homeowners as a custom solution for re-imagining how buildings, people and the elements interact. By combining precision engineering and outstanding design options throughout more than 25 unique award-winning systems, NanaWall Systems advances design possibilities beyond the conventional for almost any space. NanaWall Systems is headquartered in the San Francisco Bay Area with 24 showroom and design studio locations across North America.
About Hospitality Design Exposition
HD Expo is the premier trade show and hospitality conference for its industry. Presented by Hospitality Design, it remains at the forefront by offering the newest and most innovative products and services, encouraging and sharing ideas, providing inspiration and connecting hospitality professionals. HD Expo is dedicated to bringing the interior design industry, architects, owners/operators, developers, specifiers and purchasers the best available resources for their projects. This includes the most informative conference sessions led by top specialists pertinent to today's industry.