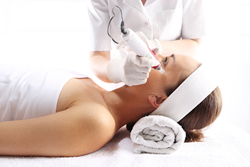 I was amazed at how comfortable I was during the treatment!
ATLANTA (PRWEB) July 17, 2018
There are few industries where the need to stay innovative is more prevalent than that of cosmetic skincare, which is why Mint Salon is thrilled to announce its new NANO micro-needling service in Atlanta. As a leading provider of salon services, the aesthetician staff at Mint Salon will offer this treatment to clients who are interested in building collagen and elastin in their neck, face, and body through a virtually pain-free, non-surgical procedure.
Micro-needling has become one of the most sought-after skin resurfacing procedures for combating wrinkles, hyper pigmentation, and other signs of aging. Additional micro-needling benefits include a substantial decrease in sun damage, fine lines, and stretch marks, making it an ideal choice for anyone who wants to be seen as the best version of themselves possible.
With micro-needling, small, fine needles puncture the skin in rapid succession, thereby inducing a natural healing response from the body. This in turn promotes the stimulation of collagen, a natural substance occurring in the body. While the idea of having needles puncture your skin may seem daunting, the patented technologies of NANO micro-needling ensure a much more ideal outcome with far less irritation and no need for numbing cream.
"I was amazed at how comfortable I was during the treatment. I was expecting the process to be a bit painful, it was actually relaxing," Kent Thompson, an esthetician of over twenty years explained. "Irritation was only present into the evening. By the next morning, my skin was clear and looked great. A noticeable firmness and brightening was noticeably visible in the following days. I am excited to bring this treatment to our clients at MINT."
Although this treatment with hyaluronic acid typically costs $350 for one treatment on the face or neck alone, or $550 for a combined treatment of the face and neck, Mint Salon is celebrating summer with a greatly discounted rate. New clients pay just $125 for their first treatment, or $449 for a series of three treatments. Micro-needling can be performed every 4 to 6 weeks until the desired effect is achieved, with most providers recommending three to five procedures for optimum results, although patients will see noticeable results after just one session.
Immediately following the treatment, you may notice mild pink or redness on the skin. Though recovery time varies depending on the size of the treatment area and the number of overlapping passes performed, the redness typically disappears by the time a patient leaves the office. Slight discomfort can last anywhere between an hour to 2 days.
The professionals at Mint Salon are exceptionally well-trained and experienced in advanced medical aesthetics. When performing skin rejuvenation procedures, they take time to consult with each patient and use their expertise and artistic approach to ensure each patient has a results-oriented and custom-tailored treatment plan.