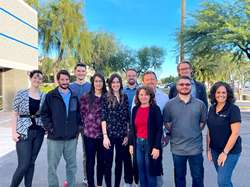 "With the breadth of knowledge our new scientists bring, and the cutting-edge instruments added to our lab, we are even better equipped to expand the possibilities for our customers across a multitude of applications." – Mark Flowers, President Nanoscience Analytical
PHOENIX (PRWEB) December 10, 2021
Nanoscience Analytical has recently expanded its team with key management personnel and scientists to accommodate its growing customer base across diverse industries.
Jacqueline Harding, PhD has been appointed Laboratory Director. She is a chemist with a diverse background in material science including biomaterial device fabrication, heterogenous catalysis, and surface science. As a technical expert and experienced project manager, she facilitates new product launches and manages a diverse range of projects.
Additionally, 3 PhD material scientists have recently joined to leverage backgrounds in battery and fuel cell device fabrication, medical device preparation, and advanced characterization of nanomaterials utilizing microscopy and surface science analysis. The recent additions build on a team of electrospinning scientists with experience developing innovative solutions for nanofiber and particle material development applications.
"It's amazing to see how quickly our additional staff and their experience and insights have helped to develop our contract R&D, method development, and analytical services", commented Mark Flowers, President of Nanoscience Analytical.
In addition to new personnel, the recent expansion of NSA's laboratory capabilities further demonstrates a commitment to better servicing a wider variety of industries. Mr. Flowers adds, "With the breadth of knowledge our new scientists bring, as well as the cutting-edge instruments added to our lab, we are even better equipped to create new methods, develop novel materials, and expand the possibilities for our customers across a multitude of applications."
Four separate electrospinning instruments support basic research, process development, and pilot scale production of electrospun nanofiber materials and electrosprayed particles. Nanofiber development has been important in regenerative medicine as tissue scaffolding, in air and water quality as filtration media, and in energy storage & battery applications by improving separator performance. The additional instruments provide for simultaneous R&D and production scale projects.
Analytical services provide a means to characterize nanomaterials developed in house, as well as testing our customers' materials. Recent additions to the lab include a Theta Flow contact angle meter with topography capabilities and accessories that provide extremely small volumes (picoliters) of liquid to be utilized.
Measuring wettability and surface tension with both optical and force tensiometers has helped to accelerate nanofiber development and provides these capabilities to companies developing many types of materials used in batteries, construction materials, medical devices, consumer products, and many more.
We have also expanded our Electron Microscopy offerings, including a field emission SEM, automated SEM analysis, and TEM imaging offering 0.8 Angstrom resolution.
Automated SEM provides statistical analysis of particles or features combining morphological data and elemental analysis. Reports can be designed for various applications and industries. Standard reports that already exist are used for:

Technical Cleanliness: reports adhering to standards VDA 19 and ISO 16232 provide particle size distribution information, average chemistry, or to look for unwanted particles such as contamination or abrasive materials
Additive Manufacturing: ASTM B215-15 standards for sampling metal powders used in 3D printing. The standardized method for obtaining test portions of metal powder are covered considering the possibility of segregation of the metal powder during and after the filling of the containers. Standard ASTM F1877-16 covers the proper procedures for characterizing the morphology, quantity, size, and size distribution of particles.
Steel & Metal Quality Analysis: Evaluation of non-metallic inclusions in steel by measuring various sizes and shapes as well as chemistry for each individual inclusion. Standard recipes for Al-killed, Si-killed and Ca-treated steels can be used as well as custom recipes.
Visit our website for more information on how Nanoscience Analytical can support your efforts in nanomaterial development and characterization, method development, and more.
About Nanoscience Analytical:
Nanoscience Analytical provides both contract Nanomaterials Development and Analytical Services supported by expert scientists in a lab with the latest technologies. Our expertise in synthesizing nanofibers and nanoparticles provides an efficient path to explore novel materials and their usefulness for many diverse applications. Our analytical capabilities include electron microscopy and both surface and materials analysis with fast turnaround times. We are an ISO9001:2015 certified laboratory.