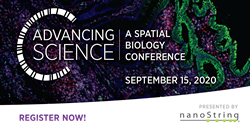 SEATTLE (PRWEB) September 09, 2020
NanoString Technologies, providers of technology that enables a wide variety of basic research and translational medicine applications, will be hosting Advancing Science: A Spatial Biology Conference, in three time zones on September 15, 2020, (Asia-Pacific – September 16). This one-day virtual event is a forum for research professionals, scientists, and clinicians from around the world to come together and further their learning and understanding of recent discoveries in spatial biology. Spatial technologies are enabling new discoveries that advance our understanding of biology, including viral host immune response and the tumor immune microenvironment.
The conference will begin with plenary speaker Peter Sorger, Ph.D., Otto Krayer Professor of Systems Biology at Harvard Medical School, Head of the Harvard Program in Therapeutic Sciences (HiTS) and Director of its Laboratory of Systems Pharmacology Harvard Medical School. Thereafter, the day will split into three scientific tracks: COVID-19 research, spatial genomics research and spatial genomics data analysis. An interactive panel roundtable with all the speakers involved is scheduled at the end of the COVID-19 research and Spatial Genomics Data Analysis scientific tracks.
During the program, attendees at the virtual conference will also be able to visit the exhibit hall, view posters, network with company representatives and colleagues, attend Live GeoMx Interactive Experience session and participate in the NSTG Gamification activity. The conference will offer a certificate of attendance, downloadable after the events' completion.
The conference timings for each geographical area are as follows:
Europe: 9:00 AM-3:30 PM British Summer Time (10:00 AM-4:30 PM Central European Time). September 15.
Americas: 11:00 AM-5:30 PM Eastern Time. September 15.
Asia Pacific: 11:00 AM- 5:30 PM Beijing Standard Time (September 16).
To learn more about the Advancing Science: A Spatial Biology Conference, speakers, agenda, and to register, click here.
About NanoString
NanoString Technologies is a leading provider of life science tools for translational research. The company's nCounter® Analysis System is used in life sciences research and has been cited in more than 3,200 peer-reviewed publications. The nCounter Analysis System offers a cost-effective way to easily profile the expression of hundreds of genes, proteins, miRNAs, or copy number variations, simultaneously with high sensitivity and precision, facilitating a wide variety of basic research and translational medicine applications, including biomarker discovery and validation. The company's GeoMx® Digital Spatial Profiler enables highly-multiplexed spatial profiling of RNA and protein targets in a variety of sample types, including FFPE tissue sections. For more information, please visit http://www.nanostring.com.