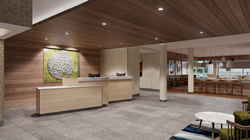 RIVERVIEW, Fla. (PRWEB) October 18, 2019
The Naples Hotel Group, a leading hotel Development and Management Company, announced that the roof has been topped out on the new Fairfield Inn & Suites located in Riverview, FL. The company was awarded the contract to oversee the construction of the hotel and manage all aspects of the opening and operations with owners, Riverview Hotels and Resorts LLC.
Riverview is only 12 miles to Downtown Tampa. It's home to many corporate and local businesses and has been named Best Places to Live alongside the Tampa/St. Pete metro area. Also, Riverview is home to the brand-new James A. Haley Veterans' hospital which is expected to serve over 10,000 Veterans. The hotel is located within a mile of Interstate 75, the major highway along the west coast of Florida, at 10743 Big Bend Road.
The new five-story hotel has 108 guest rooms & suites, 512 sq. ft. meeting and event space, fitness center as well as an outdoor pool and patio area. Hotel guest rooms will feature Marriott's Guest Room Entertainment Platform, a mini-refrigerator, microwave and complimentary coffee & tea. Amenities include a state-of-the-art fitness center, on-site laundry facilities, business center, and complimentary WIFI throughout the property. Dining options will include daily, complimentary breakfast and 24-Hour Market that features snacks, drinks, and sundry items.
The Riverview hotel is currently expecting to open in March 2020.
For job opportunities please visit Naples Hotel Group's careers page.
About Naples Hotel Group
Naples Hotel Group is a hotel development and management company founded in 1999. NHG has achieved superior results and has a proven ability to enhance the performance of hotels through the use of their experience, responsiveness and extensive resources. NHG, based in Naples and Clearwater, prides itself on building long-term relationships with quality people and organizations.
To learn more visit http://www.napleshotelgroup.com.