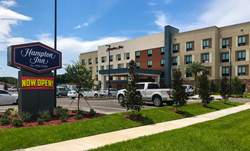 NAPLES, Fla. (PRWEB) July 21, 2020
The Naples Hotel Group, a leading hotel Development and Management Company, announces the Hampton Inn in Clewiston, FL opened its doors last week. The Hampton Inn Clewiston is located near Lake Okeechobee at 305 West Sugarland Highway. Naples Hotel Group was awarded the contract to manage all aspects of the opening and operations with owners, B A Hospitality LLC.
The hotel was brought into the Naples Hotel Group portfolio under the leadership of Phil Tandett, Executive VP of Operations, and William Verbeke, General Manager of the Hampton Inn Clewiston.
The three-story Clewiston hotel has 86 guest rooms that feature a mobile desk, a comfortable couch or accent chair, mini-refrigerator, coffeemaker and microwave.
The Hampton Inn Clewiston has 1,248 sq. ft. of meeting and event space available for rental. Guests can enjoy complimentary amenities such as a state-of-the-art fitness center or the outdoor pool and patio area.
Other amenities include on-site laundry facilities, business center, and complimentary WiFi throughout the property. Dining options will include a daily, complimentary breakfast, and 24-Hour TREATS shop that features snacks, drinks, and sundry items.
Clewiston is adjacent to Lake Okeechobee, the largest freshwater lake in the state known as Florida's Inland Sea. Midway between West Palm Beach to the east and Fort Myers to the west, Clewiston is Florida's sweetest town. It's home to the U.S. Sugar Corporation, growing the sugarcane crop and the Sugar Festival. Visitors can experience Florida's best freshwater fishing, hiking and biking trails, as well as guided tours of the area. Also nearby is the Airglades Airport that transports perishable air cargo goods from South America.
For more information or to make reservations, please visit Hampton Inn Clewiston or call +1-863-301-5403.
About Naples Hotel Group
Naples Hotel Group is a hotel development and management company based in Florida and prides itself on building long-term relationships with quality people and organizations. The Naples, FL hotel group specializes in Hotel Management and Development of upscale limited and select-service hotels. Naples Hotel Group has achieved superior results and has a proven ability to enhance the performance of hotels through the use of their experience, responsiveness and extensive resources. For more information about Naples Hotel Group, visit http://www.napleshotelgroup.com, and connect on LinkedIn, Twitter, and Instagram.