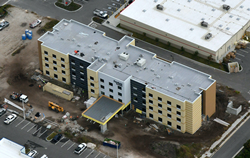 NAPLES, Fla. (PRWEB) January 28, 2020
The Naples Hotel Group, a leading Hotel Development and Management Company, currently manages 14 hotels with three slated to open in early 2020 and more growth beyond that.
The company started its humble beginnings in 1999 where owners Mike and Hayley Bou-Sliman owned, developed, and managed their own portfolio of hotels in Naples, FL. In 2010, they formed the third-party management business Naples Hotel Group is today.
Due to the family's extensive experience in developing and managing their own hotel assets, they are able to offer third-party services that are thorough and transparent. Hotel Owners can work on a project with the company from site selection all way to opening day and beyond.
The Hotel Management Company will be opening three hotels to its portfolio early this year.
The hotels are:
Fairfield Inn & Suites by Marriott Tampa Riverview
TownePlace Suites by Marriott Orlando Downtown
Hampton Inn by Hilton Clewiston
In addition, the company's development team completed two full property improvement plans in 2019 and are on track to complete another hotel in its portfolio in the first quarter of 2020.
Naples Hotel Group's development team, managed by Mike Bou-Sliman and Andrew Bou-Sliman, has managed 15 new construction and renovation projects to date. "I understand how ownership groups analyze their investment from my own experiences," explained Mike Bou-Sliman, Owner & Managing Partner of Naples Hotel Group. "We saw the opportunity to grow a legacy and company with our children which has driven our growth to date."
With the booming economy in Florida markets, Naples Hotel Group has quickly become one of the top third-party hotel companies in the Southeast. The company has laid out a strategic growth plan to ultimately get up to a 35 hotel portfolio throughout the Southeast. They are actively accepting new development or management contracts.
The company's most recent acquisition was the Best Western Naples Inn & Suites in December 2019. Naples Hotel Group was awarded the management contract by the hotel's new ownership group.
Beyond that, the company is working with new and existing clients on additional new hotel projects that total over $100 million. Projects include Marriott and Hilton franchises in Miami, Orlando, Leesburg, and Plant City. See the full list of completed and current projects on their website here.
About Naples Hotel Group
Naples Hotel Group is a hotel development and management company based in Florida and prides itself on building long-term relationships with quality people and organizations. The Naples, FL hotel group specializes in Hotel Management and Development of upscale limited and select-service hotels. Naples Hotel Group has achieved superior results and has a proven ability to enhance the performance of hotels through the use of their experience, responsiveness and extensive resources. To learn more visit http://www.napleshotelgroup.com.