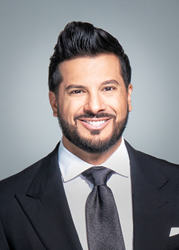 Creating opportunities for our youth and their families is important to the development of our community today and for years to come.
LAS VEGAS (PRWEB) September 01, 2020
Naqvi injury Law is lifting the spirits of Southern Nevada's youth athletes. The Las Vegas-based personal injury law firm has become an official sponsor for Faiss Middle School's soccer teams and the Mountain Ridge Little League, with recent donations to help both programs operate once they are able to restart operations.
"We know how important youth sports is to our community and we look forward to cheering on these athletes again soon," said Farhan Naqvi, managing attorney at Naqvi Injury Law. "It is especially important to us that these kids know that even during tough times, their community supports them and their teams."
The firm's efforts will not only help with the development of each program, but will also provide new home and visitor jerseys for the athletes upon their return to the field.
The sponsorships are part of the firm's ongoing effort to support local charities and organizations that work to improve the education and physical health of children. Naqvi is an advocate for Cure 4 The Kids Foundation in Las Vegas and serves on its board of directors. He is a sponsor of the Golf 4 The Kids tournament, scheduled for October 19 at Anthem Country Club. Last year the organization honored the Naqvi family by dedicating the Naqvi Exam Room, which the firm designed to provide patients with an inspiring atmosphere during medical appointments.
Among a long list of children's and family charities that Naqvi injury Law has supported throughout the years are Help of Southern Nevada, the Children's Heart Foundation, Grant A Gift Autism Foundation, American Cancer Society, Girl Scouts of Southern Nevada, Nevada Donor Network and numerous youth sports programs. The firm also sponsors Fox 5's "Shining Star" program which highlights people in the community who are helping others, and News 3's "Wednesday's Child," highlighting children hoping to be adopted.
"It's our belief that supporting and creating opportunities for our youth and their families is important to the development of our community today and for years to come," Naqvi said.
To learn more about Naqvi Injury Law, visit http://www.naqvilaw.com.
ABOUT NAQVI INJURY LAW
Naqvi Injury Law was founded in 2008 by Farhan Naqvi, an award-winning personal injury attorney. The firm is an 11-time Gold Winner in the "Best of Las Vegas" Readers Poll, for Best Personal Injury Lawyer, Best Law Firm, Best Customer Service and Best Trial Lawyer. Farhan Naqvi has been selected as a Super Lawyer, Litigator of the Year from the American Institute of Trial Lawyers, has received the highest possible rating of AV Preeminent from Martindale Hubbell and holds an Avvo "Superb" rating. For more information, visit http://www.naqvilaw.com or call 702-553-1000.