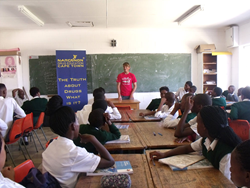 Many youth become confused, since marijuana is promoted as 'medical' in some states and legal for adults in others. It's no wonder that some kids would start thinking that there's no harm in smoking pot.
(PRWEB) April 08, 2014
The headlines seem filled with news of one state after another approving medical use of marijuana — to date, twenty states plus the District of Columbia. Even more to the point, two US states have legalized the recreational use of marijuana. The world at large is not uniformly in accord with this trend. Legal dealing in marijuana is in direct contravention, for example, of the United Nations' Treaty against Illicit Traffic in Narcotic Drugs and Psychotropic Substances.
It doesn't stop there. As of early March 2014, fifteen more states have legislation pending on the medical use of marijuana, according to ProCon.org.
"It seems many parents in this country may soon wake up to businesses growing or distributing marijuana from neighborhood back yards," said Clark Carr, president of Narconon International. Narconon is a non-profit organization dedicated to reducing drug abuse and addiction internationally. "Many youth become confused, since marijuana is promoted as 'medical' in some states and legal for adults in others. It's no wonder that some kids would start thinking that there's no harm in smoking pot."
"The fact is, medical and legal issues aside," Carr continued, "that marijuana continues to be marijuana. Parents need to know how to protect their children from damage that science has shown smoking marijuana can cause. But parents may not know how to approach the matter. Narconon drug education has for years considered this message very important and reaches out to provide effective drug prevention services to support parents in their desire to keep their children healthy."
The recent edition of the Monitoring the Future survey of youth attitudes and drug use spells out the problem that Carr was referring to. According to the 2012 survey, "34 percent of marijuana-using 12th-graders living in states with medical marijuana laws say that one of the ways they obtain the drug is through someone else's medical marijuana prescription."
"Where there are medical marijuana dispensaries, there is more of the drug in distribution," said Carr. "There is more work to do. This is why our drug education staff and volunteers around the country have been so vigorous in providing prevention lectures, usually free of charge, to schools and community groups."
In 2008, a peer-reviewed science study on the Narconon high school drug education curriculum was published in the Substance Abuse Treatment Prevention Policy journal. The study noted that lectures utilizing the Narconon curriculum resulted not just in positive changes in student attitudes, but reductions in their use of alcohol and other drugs. "At six month follow-up, youths who received the Narconon drug education curriculum," the study states, "showed reduced drug use compared with controls across all drug categories tested. The strongest effects were seen in all tobacco products and cigarette frequency followed by marijuana. There were also significant reductions measured for alcohol and amphetamines. The program also produced changes in knowledge, attitudes and perception of risk."
Among centers providing this empirically-tested drug prevention service is Narconon Redwood Cliffs of Northern California. Responding to continuing requests from schools throughout much of the San Francisco Bay area, trained staff from this center are reaching nearly 30,000 children yearly. The 8-module interactive curriculum teaches youth what drugs are, what their lasting effects are and why, and how pursuing personal goals drug-free can lead to a happier life. After these classes, students fill out surveys, many saying that they have changed their minds and will not now use or will stop using drugs.
In countries as diverse as Colombia, Nepal, Italy, Taiwan, South Africa, and the United States, Narconon drug prevention services have received the thanks and recognition of legislators and other government officials. For more information on the Narconon drug prevention curriculum or the Narconon drug rehabilitation program, call 1-800-775-8750.