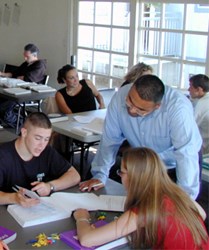 Rehabilitation means that a person must not only recover from the physical damage of addiction, he must also change his life.
(PRWEB) October 16, 2013
For more than forty years, Narconon drug rehab organizations have operated with core principles based on developing life skills in their students. These concepts are now gaining increasing support from national and international health organizations. Both the World Health Organization (WHO) and the US Substance Abuse and Mental Health Services Administration (SAMHSA) have issued statements about the necessity for targeting life skills, including cognitive and social skills, in drug rehab.
To educate families on the importance of life skills in addiction recovery, Narconon International has recently added an educational feature on life skills to its website. This new feature contains more than two dozen short explanatory articles that illustrate how the Narconon rehab program aligns with principles stated by the WHO and SAMHSA.
"From the earliest days of the Narconon drug rehab program, our core concept has been a focus on life skills," said Clark Carr, president of Narconon International. "William Benitez, the man who founded the program inside Arizona State Prison system, used books by L. Ron Hubbard to teach himself and other inmates how they could better solve problems, more successfully manage their lives. As their life skills realistically improved, their addictions would 'drop by the wayside,' to use Benitez's own words."
In 1998 the WHO held meetings with other United Nations officials to develop a guideline for life skills development. The World Health Organization noted that these abilities are necessary in the education of young people and the prevention of drug abuse and crime. The same skills apply to the rehabilitation of those who have become addicted and, once drug-free, need these same life abilities to stay drug-free. The meeting attendees noted the need for enhancing, among others, the following personal mental and emotional skills:

Decision-making
Problem-solving
Communication
Self-awareness
Empathy
Coping with emotions
Coping with stress.
In the WHO record of that meeting, the participants clarified the relationship between life skills and abilities: "Skills are abilities. Hence it should be possible to practise life skills as abilities. Self-esteem, sociability and tolerance are not taught as abilities: rather, learning such qualities is facilitated by learning and practising life skills, such as self-awareness, problem-solving, critical thinking, and interpersonal skills."
In late 2010, SAMHSA published a guide with a "working definition of recovery" outlining some of the components that would constitute recovery from a variety of disabilities, including drug addiction. They note that certain life factors should be a consistent part of maintaining oneself on the path to successful recovery. These would include:
Health, including abstaining from use of alcohol or illicit use of drugs
Home, having a safe and stable place to live
Purpose, being involved in meaningful daily activities like school, work, family or volunteerism
Community, including relationships with friends and social networks that provide support and love.
Regarding the relevance of life or social skills to the Narconon approach toward rehabilitation from alcohol and other drug abuse, Carr cited a quote from the 1970's by Mr. Benitez about his original research of works by philosopher L. Ron Hubbard which helped him to develop with others a new concept of rehabilitation:
"I found that if a person rehabilitated and applied certain abilities, that person could persevere toward goals set, confront life, isolate problems and resolve them, communicate with life, be responsible and set ethical standards, and function within the band of certainty." - William Benitez
"Our decades of experience working hands-on with tens of thousands of recovering substance abusers fully support these statements by the WHO and SAMHSA," said Carr. "Rehabilitation means that a person must not only recover from the physical damage of addiction, he must also change his life. That is, he must improve his life skills, really and truly, for use in the crucible of everyday existence. Our Narconon programs have always been strongly oriented toward this by the inclusion of a thorough life skills education component."
For a description of some of the Narconon life skills educational materials, visit: http://www.narconon.org/drug-rehab/skills/.
For information on the Narconon drug rehab program, call 1-800-775-8750.
____________________
References:
SAMHSA guidelines: http://store.samhsa.gov/shin/content//PEP12-RECDEF/PEP12-RECDEF.pdf
WHO guidelines: http://www.who.int/mental_health/media/en/30.pdf
William Benitez's quote: http://www.narconon.org/history/1966/