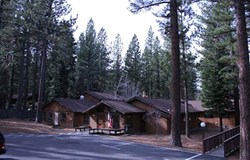 The simple act of making it easy for a family to get rid of unneeded prescriptions could save lives
(PRWEB) August 15, 2013
Every year on the first Tuesday in August, the National Association of Town Watch sponsors events all across the country that get communities together with an anti-crime message. In Tahoe City, California, sheriffs, city agencies, fire fighters, staff from Narconon Vista Bay in South Lake Tahoe and plenty of local citizens gathered to have fun and spread the message.
The theme of the event was Dunk a Cop, Not a Donut. Everyone who attended had a chance to send County Supervisor Jennifer Montgomery or Placer Sheriff Jeff Ausnow splashing into the dunk tank.
Carnival games, free food and free drinks were available to all attendees. The Narconon® staff invited each person who came to sign a huge board with pledges to be drug-free. They also handed out a free drug education booklet, 10 Things Your Friends May Not Know about Drugs. At the end of the night, the Captain of the Placer County Sheriff's Department received this pledge board as a gift, and said that he would hang it in the department.
One of the highlights of the evening was the ribbon-cutting for a permanent prescription drug drop-off box that was sponsored by the Tahoe-Truckee Future Without Drug Dependence and the local utility departments. Visitors could drop off any unwanted or old prescriptions that night or any time in the future.
"Every time a family removes unneeded prescriptions from the household, they reduce the chance of abuse and addiction," said Alex Matthews of Narconon Vista Bay. "Those of us at Narconon applaud the installation of this permanent addiction-fighting feature as it is another way we can prevent our neighbors, young and old, from being trapped in addiction."
For more than forty years, Narconon centers around the world have been fighting drug abuse and addiction through community awareness events like these and drug education classes in schools and clubs. For more information on Narconon, call 1-800-556-8885.