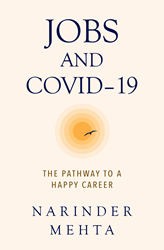 "Narinder Mehta, author of many exceptional career transition books, has an extraordinary ability to help you identify your dream job, simplify your job search and discover the happiness at work you deserve." Doris Helge, Ph.D., Author of "Joy on the Job"
DOVER, Mass. (PRWEB) November 12, 2021
Narinder Mehta's latest book Jobs and Covid-19: The Pathway to a Happy Career reveals a step-by-step pathway to get job offers well matched with your skills. The pandemic has rapidly and radically changed the work environment. Those changes are still evolving and will continue to have a profound impact on the workplace. In this rapidly changing environment, people need to evaluate how their skills match what the new jobs require and learn to navigate a changing workplace.
The road to a happy career starts with a job you love. When you get a job that matches your skills and job interests, you are well on your way to a successful career. This book shows how to identify the skills you enjoy using and how to get jobs that match those skills. Narinder Mehta ends with ideas on how to think about defining a happy career over a lifetime and dives deeply into his own experiences as an executive who successfully navigated his career across two continents.
The book is based on the author's experiences as a business manager and an executive recruiter. He has extensively researched the impact of Covid-19 on jobs and shares many powerful techniques to navigate the changing work environment.
Narinder Mehta was President of an executive search firm for ten years. Prior to that, he worked in the financial services industry. He served as a Senior Vice President at several companies including Shearson/American Express, Capital Credit Corporation, and Outsourcing Solutions Inc. He was National Sales Director of the American Express Gold Card program and served as Vice President of Sales for the American Express Corporate Card. He had the honor of serving as a National Vice President of the Muscular Dystrophy Association for two terms.
He is the author of three previous books on job search and career development. He has spoken on goals accomplishment and personal development to audiences in many countries. He received his Master of Arts degree in Industrial Relations from the University of Minnesota. He lives in Dover, Massachusetts, with his wife, Sampath.
The book is available in a paperback edition and as an eBook at Amazon and other sales outlets. For the book's description, editorial reviews, and to look inside the book, please go to: http://www.amazon.com/dp/B09BYBJ761.
Additional information is available at the website: http://www.AceYourJobSearch.com
For information about Narinder Mehta, please visit LinkedIn: http://www.linkedin.com/in/NarinderMehta