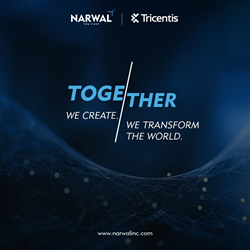 CINCINNATI (PRWEB) April 12, 2021
Tricentis Virtual Summit is one of the biggest conferences in the automation testing space. The latest chapter is all about speed as evident by their slogan - speed is everything. The event will have industry experts talk about the present and the future of continuous testing, digital transformation, agile test management, load testing, and more.
With the industry's best continuous testing platform, Tricentis is known for reinventing software testing for DevOps. Through agile test management and advanced test automation that support more than 150 technologies, they provide automated insights into the business risks of software releases, transforming testing into a catalyst for innovation.
Narwal is a Tricentis Implementation and Delivery partner and has successfully led Test transformation for multiple global clients. Narwal's strong understanding of Tricentis' products and having the same vision as Tricentis - customer satisfaction - has helped our customers provide as much 90% increase in speed to market.
This is not the first time that Narwal is sponsoring a Tricentis event. Narwal has always been vocal about how proud they are of their association with Tricentis because of their shared vision. Moreover, their continuous efforts have won them the Tricentis Data Integrity Partner of the Year award in 2020.
"Companies are all about speed to market these days and the biggest bottleneck most companies face is testing." says Raj Kanuparthi, CEO and founder at Narwal, "In that front, Tricentis Tosca plays in the center of test automation and continuous testing" he continues, reflecting on their successful journey with Tricentis.
Raj believes that Tricentis' easy-to-learn and scriptless automation provides benefits like faster test execution, higher quality, and fewer defects. This translates to huge cost savings. He strongly recommends, no matter where organizations are in their transformation journey, everyone involved should attend the Tricentis Virtual Summit to find out more about how Tricentis products can help them achieve greater success in automation testing.
Tricentis Virtual Summit will be held between 13-15 April, depending on what region you are viewing it from. You can find out more about the event or register for the event here
About Narwal:
Narwal is a niche technology services company that helps fortune 1000 companies in the areas of Automation, Data & Analytics, and Cloud. Narwal's customer-centric, people first approach with deep expertise and thought leadership ensures that outcomes are realized, significant improvements in ROI, speed to market and higher quality.