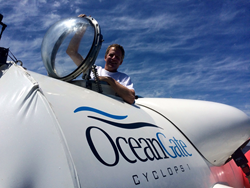 Being part of the inaugural expeditionary team for the Titanic Survey Expedition is an amazing opportunity. I'm looking forward to demonstrating the cutting edge submersible technology that will change how we explore our deep oceans. Scott Parazynski
EVERETT, Wash. (PRWEB) March 16, 2021
OCEANGATE EXPEDITIONS TODAY ANNOUNCED DR. SCOTT PARAZYNSKI AS AN EXPEDITIONARY EXPERT who will join the Titanic Survey Expedition 2021. A United States Astronaut Hall of Fame inductee, technology CEO and avid explorer, Parazynski has not only crewed five Space Shuttle flights and seven spacewalks but has also summited Everest and earned Level 1 submersible pilot credentials during his previous work with OceanGate Expeditions.
"Challenging environments are incredible catalysts for innovation," shares Dr. Scott Parazynski. "Being part of the inaugural expeditionary team for the Titanic Survey Expedition with my friend and colleague, Stockton Rush, is an amazing opportunity. I am looking forward to working with the OceanGate Expeditions team to demonstrate the cutting edge submersible technology that has the power to change the way humans explore our deep oceans, understand our planet, and investigate other planets. Our home planet is extraordinary, and my bucket list will get an additional check mark as part of this ground-breaking OceanGate expedition," says Parazynski.
"Going to the bottom of the ocean presents many challenges also encountered in space exploration. It requires rigorous training, diligence, planning, and, most of all, dedication to safety," says Stockton Rush, President, OceanGate Expeditions. "Expeditionary environments are dynamic whether working in space or working in our deep oceans. Having experts on our team with proven track records in exploration is vital to our success in achieving our mission objectives. We will document the wreck of the Titanic in more detail than ever has been done before, and chronicle the biology, archaeology, and general condition of this important maritime heritage site," continues Rush.
Aspiring Mission Specialists interested in supporting the Titanic Survey Expedition should contact OceanGate Expeditions regarding requirements and qualifications.
To obtain more information about all upcoming OceanGate Expeditions dive missions, visit http://www.oceangateexpeditions.com/titanic.
Media Inquiries | Lisa Dreher | lisa.dreher@oceangateexpeditions.com | +1 425-442-1301
Expedition Inquiries | Kyle Bingham | kyle.bingham@oceangateexpeditions.com | +1 425-595-6343
Investor Inquiries | Bob Shuman | robert.shuman@oceangatexpeditions.com | +1 425-595-5017
Business Inquiries | Bob Shuman | robert.shuman@oceangatexpeditions.com | +1 425-595-5017
CLICK HERE TO DOWNLOAD IMAGES.
ABOUT OCEANGATE EXPEDITIONS
OceanGate Expeditions, Ltd is dedicated to direct human exploration of the undersea world. Not satisfied with scratching the surface of the ocean near the shoreline, OceanGate Expeditions charters manned submersibles to create expeditions at depths far deeper than can be reached with SCUBA. The organization conducts undersea expeditions to explore and document the 95% of the seafloor that man has never visited including iconic shipwrecks, hydrothermal vents, deep-sea canyons, and uncommon biological events around the world. These expeditions, to depths approaching 4,000 meters (13,123 feet), provide rare opportunities for citizen scientists to observe the mysteries of the deep sea and expand our understanding of our home, earth, the blue planet. Visit http://www.oceangateexpeditions.com.