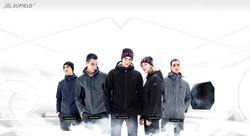 We are truly grateful to the backers and are committed to impressing them with our jackets.
SAN JOSE, Calif. (PRWEB) December 17, 2018
Supield Inc., creator of the thin, but warm jacket line, S.Kistler, successfully reached its initial funding goal of $25,000 in only three days on Kickstarter. The crowdfunding campaign will empower the Supield team to take the Kistler Aerogel Jacket series into full production and ship to outdoor enthusiasts all over the world following the campaign.
"The responses from Kickstarter are overwhelming. In addition to the US market, we have received support from backers from everywhere — Australia, Singapore, Japan, Malaysia, Romania, France, Spain, Thailand, China, India, etc.," said Jie Yan, Founder and CEO of Supield Inc. "We are truly grateful to the backers and are committed to impressing them with our jackets."
Aerogel is known as a technology of the Space Age, which is traditionally used in NASA spacesuits. However, outerwear companies have struggled to incorporate aerogel into clothing — they could not find the perfect balance of warmth, thickness and weight. After three years of research and development, the Supield team successfully advanced the insulative component into the material; creating perfect winter jackets that are warm, thin and light. To fully capitalize on the potential of the advanced aerogel technology, Supield Inc. announced a stretch goal of aerogel insulated gloves if the initial funding goal doubles; raising $50,000.
Supield has a top-notch and dedicated R&D team. Chief Scientist Dr. Lu Haiming, who earned a Ph.D in Materials Engineering at Imperial College, is currently a faculty member at Shanghai Jiao Tong University. Chen Xi, Co-founder of Supield, is a member of the China Industrial Design Association and received a masters in the British design space. Chief Scientific Adviser Dr. Zhang, is a leading expert in the application of new gel materials and Nano materials. He has published a number of academic papers on Angew Chem Int Ed, Adv Funct Mater and Chem Commun.
The Kistler Jackets have an ultra-thin 3D mesh composite of aerogel that is placed between the outer layer and the inner lining of the jacket to provide a great level of heat insulation. The jackets are offered in various styles to meet a variety of consumer needs. The lightest and thinnest jacket, Kistler Series 3, resists temperatures as low as 14°F (-10°C), is only 0.5 mm in thickness and weighs less than one pound. The warmest, thickest version of the jacket, the Kistler Series 7, has a 3mm aerogel insulation layer, which is only about 1.5kg in weight — 50 percent lighter than the leading aerogel jacket on the market. The Kistler Series 5 is the best option for those looking for a warm, hooded jacket. The Kistler Series R uses the first single-layer aerogel composite, which is a revolutionary way to incorporate aerogel into clothing production.
Though fully funded, Kickstarter backers still have the opportunity to purchase the Kistler Aerogel Jacket series at discounted prices through January 22, 2019. For more information about the campaign, or to place an order, visit pr.go2.fund/kistler.
About Supield Inc.
Aerogel technology was initially used in industry insulators, but was not ideal for daily clothing due to various challenges such as stiffness and powder leakage. In early 2018, the Supield team created a light, thin and soft aerogel fabric that does not compromise warmth. By introducing the first aerogel fabrics that are available in different thickness, and by pioneering the aerogel single-layer composite, the team brings a new level of warmth to people worldwide. The company is headquartered in Shanghai, China with an additional office in California, United States.