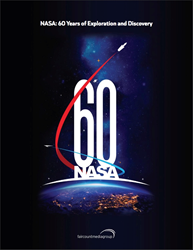 TAMPA, Fla. (PRWEB) October 19, 2018
Since its inception in 1958, the National Aeronautics and Space Administration (NASA) has accomplished many great scientific and technological feats in air and space. NASA is a leading force in scientific research and stimulating public interest in aerospace exploration, as well as science and technology in general.
To commemorate this national anniversary and historic milestone, Faircount has released a special print/digital publication to celebrate NASA's 60 incredible years of exploration and discovery. Within the publication, you will find stories about NASA's history, past achievements, organization, and current and future programs and initiatives.
NASA: 60 YEARS OF EXPLORATION AND DISCOVERY is best viewed on your desktop or tablet device, and can be accessed by following this link, or by visiting:
https://bit.ly/2CpWry9
To learn more about Faircount's upcoming initiatives, publications, and sponsorship opportunities, please email: sales@faircount.com
About Faircount
Faircount creates highly targeted print and digital publications for the world's most iconic institutions and historic national events. The company's work within government and scientific sectors is second to none with a portfolio including an extensive range of commemorative publications developed in partnership with government departments and agencies. The company has published books for the U.S. Air Force, U.S. Army, U.S. Coast Guard, U.S. Marine Corps, U.S. Navy, National Oceanic and Atmospheric Administration, The King Center, National Council of Volunteer Firefighters, The Statue of Liberty and Ellis Island Foundation, Carnegie Hall Corporation, the Royal Navy (U.K.), Royal Australian Navy, DARPA and many others. More information is available at faircount.com Many of our titles are also available and additional content can be accessed at defensemedianetwork.com