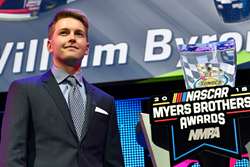 LYNCHBURG, Va. (PRWEB) November 29, 2018
William Byron, driver of the Liberty University No. 24 Chevrolet Camaro ZL1 in the NASCAR Cup Series, officially accepted the Sunoco Rookie of the Year award at the NASCAR NMPA Myers Brothers 2018 Awards in Las Vegas on Wednesday, Nov. 28. The event is part of the annual Champion's Week activities and honors those who have made outstanding contributions to NASCAR.
At age 20, Byron became the third-youngest driver to win NASCAR Cup Series Rookie of the Year honors. (He turns 21 today, Thursday, Nov. 29.) The No. 24 team secured four top-10 finishes, leading 61 laps along the way and ultimately finishing 23rd in points.
Byron, who is pursuing a degree in business communication through Liberty's online program, has now won Rookie of the Year honors in four straight racing seasons, following the Xfinity Series, Camping World Truck Series, and the K&N Pro Series East. He is only the second driver to sweep the honors in the Xfinity, Truck, and Cup Series in consecutive seasons.
Byron is the fourth Hendrick Motorsports driver to claim Rookie of the Year honors — following Gordon (1993), Kyle Busch (2005), and Chase Elliott (2016) — and the third to win it driving the No. 24 car (all but Busch).
"This was a goal of ours, and I'm thankful for all the work that went into getting us to this point," Byron said in his acceptance speech. "As we set out for 2018, I couldn't wait to live a dream of mine by competing in the Cup Series."
He called the whole experience "surreal."
"From driving the No. 24 Flames car at Daytona, to racing at my hometown in May, it was surreal," Byron said. "You go from running at the quarter-mile track at Charlotte four years ago to racing in front of tens of thousands of people."
He thanked those who made the season possible, including his family, everyone at Hendrick Motorsports, NASCAR and its partners, the sponsors of the No. 24 Chevrolet Camaro ZL1, his No. 24 team, including crew chief Darian Grubb, as well as his Hendrick Motorsports teammates.
"As I look toward next year, I'm excited and ready to get going," said Byron, who will join seven-time Cup Series champion crew chief Chad Knaus. "No more rookie meetings, and that's a freedom I haven't had in my short NASCAR career thus far. With that being said, I'm ready to take those rookie stripes off."
Liberty will remain a primary sponsor again in 2019 (view the schedule below).
2019 LIBERTY UNIVERSITY PRIMARY SPONSOR SCHEDULE
*Check the full NASCAR Cup Series schedule at WilliamByron.com
Feb. 24: Atlanta Motor Speedway
April 13: Richmond Raceway
May 26: Charlotte Motor Speedway
June 30: Chicagoland Speedway
July 21: New Hampshire Motor Speedway
July 28: Pocono Raceway
Aug. 11: Michigan International Speedway
Aug. 17: Bristol Motor Speedway
Sept. 8: Indianapolis Motor Speedway
Sept. 15: Las Vegas Motor Speedway
Sept. 21: Richmond Raceway
Oct. 27: Martinsville Speedway
About Liberty University
Liberty University, founded in 1971, is the world's premier Christian university, the largest private, nonprofit university in the nation, and the largest university in Virginia. Located near the Blue Ridge Mountains on more than 7,000 acres in Lynchburg, Va., Liberty offers more than 600 unique programs of study from the certificate to the doctoral level. Over 300 programs are offered online. Utilizing its world-class infrastructure and Christian faculty, Liberty's mission is to train Champions for Christ with the values, knowledge, and skills essential for impacting tomorrow's world.