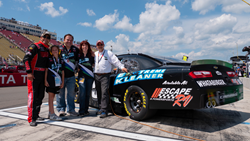 BRANCHVILLE, N.J. (PRWEB) August 15, 2018
On August 2, 2018, the folks at Escape RV, located in Branchville, NJ, received a surprise: a guest showing by NASCAR Xfinity Series Driver David Starr, who made the personal appearance at the recreational vehicle sales and service center, to help launch the 2018 Summer Tour of Stores, sponsored by Extreme Energy Solutions and its product, Extreme Kleaner.
Starr, accompanied by UMP Dirt Car Race Car Driver Connor Otten, arrived at Escape RV to share the importance of supporting locally owned-family owned businesses which employ members of the local community and assist in partnering with new products, such as Extreme Kleaner and connecting those products with the local market.
Starr and Otten were ready to sign autographs for customers, family, and friends of Escape RV and of Extreme Energy Solutions. In addition to local audiences, race fans drove from up to an hour and half away to meet the NASCAR driver which hails from Dallas Texas.
"It is important that local communities come out and support local businesses and products such as Escape RV and Extreme Kleaner," said Starr,"Its businesses such as these that allow for the racing community to flourish, and gives fans the ability to meet their favorite drivers at store events such as these."
"We are glad to have David Starr spend time at our location, I was very impressed with the time he spent with race fans and with my staff. We welcome him back anytime to Escape RV in the future," added Joe Barbagallo, Proprietor of Escape RV.
Starr made the stop at Escape RV on his way to Watkins Glen, NY, just a few days before his next scheduled race held at the road Course, located at the bottom of the finger lakes. "Extreme Kleaner Available at Escape RV," would don Starr's number 52 Chevrolet for the Zippo 200, and would also be branded on Starr's ride for the Rock N Roll Tequila 170 Presented by Amethyst Beverage, which will take place on Saturday, August 11, 2018, 3pm, at the Mid-Ohio Sports Car Course, Lexington, Ohio.
While Starr gets back to his NASCAR schedule, UMP Dirt Car Race Car Driver Connor Otten returns to the DirtCar Circuit, with stops at Accord Speedway on Friday Nights, Orange County Fair Speedway, Middletown, NY on Saturday Nights, and selected race events at various tracks part of the Short Track Super Series, a traveling competitive series throughout the Northeast.
Representatives with Extreme Energy Solutions will also be hitting the road, to visit with local small business retailers that also offer Extreme Kleaner at their locations. Stops include visits with stores in Arkansas, Texas, Las Vegas, along with stops throughout the Mid-West.
"We want local and regional audiences to become advocates for their local business community and to buy from local merchants when applicable," commented Samuel K. Burlum, CEO and President for Extreme Energy Solutions, parent company of Extreme Kleaner, "Small businesses are the life blood of Main Street USA economic engine. In order for these businesses to survive, it is absolutely vital that they are supported by consumers."
"The entire purpose of the Tour of Stores Program is to drive awareness and advocacy to the importance of supporting your local family owned neighborhood small business enterprise; the hardware store, auto parts store, specialty boutique, the corner grocery market," continued Burlum.
Extreme Energy Solutions offers other products that can be found at selected retailers, including H2O Energy Flow and Extreme Xtra Fuel Treatments. Together, with Extreme Kleaner, these products can be found at selected Ace Hardware, True Value Hardware, Hardware Hank, Trustworthy Hardware, NAPA Auto Parts, Bumper to Bumper, Woodman's Markets, and Menard's locations.
A portion of each sale of Extreme Kleaner is donated to help support Veterans and their families in need through Project Help.
"It's an honor to work with a company and its brands that support local businesses, Veteran causes, and the racing community," contributed Otten, as much as it is an honor to help small businesses and Veterans that give much back to the community."
For more information you can visit: http://www.ExtremeEnergySolutions.net or http://www.ExtremeKleaner.com