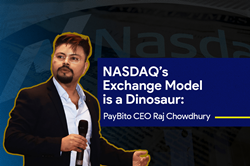 The NASDAQ exchange broker model is restrictive in terms of accessibility and financial inclusion. It is unnatural for retail intermediaries and entrepreneurs to not feel overwhelmed.
PALO ALTO, Calif. (PRWEB) February 23, 2023
PayBito CEO Raj Chowdhury has called out NASDAQ's broker exchange model, which he describes as "prehistoric" and "restrictive," with limited eligibility and trading options for retail brokers. He argued that the NASDAQ exchange's design benefits institutional traders with AI-powered trading tools and algo-trading that are too expensive for retail investors to access, resulting in an uneven playing field.

The Exchange and Trading World Needs an Upgrade to the Internet Age:
Over the years, the internet has transformed how we acquire or perceive information, services and online products. The possibility of infinite scalability has reduced the relevance of on-premise software, allowing tech manufacturers to offer tools with maximum productivity at incredibly low prices to individual users. The same is however not valid for NASDAQ's broker model, which features several drawbacks.
1. Cloud Denier in its Core Business Model-
The NASDAQ exchange model requires brokers to set up host servers and install complex technical integrations to present their services to traders and investors. The exchange does not utilize cloud technology in its offerings to associate stockbrokers, which significantly reduces complexity and installation hassles.
2. Prohibitively Expensive-
A major flaw in NASDAQ's model is the time-consuming and expensive broker registration process, which takes a minimum of 6 months. Membership costs anywhere between $5,000 to $500,000. The existing NASDAQ broker exchange model is at odds with the retail broker sentiment in terms of eligibility and trading options, making it difficult for entrepreneurs and newcomers to succeed.
3. Institutional Trader Favoritism-
The traditional NASDAQ exchange broker model has been in place for decades, and it's become increasingly clear that it's backdated and failing to keep up with the changing times. As retail traders continue their struggle often losing their money, institutional investors keep enjoying steady profits, leveraging the latest technological advances through high-frequency trading. Put in another perspective, the losses of the retail trader are transforming into institutional profits.
4. Financial Exclusion in Broker Registration-
The PayBito CEO states, "The NASDAQ exchange broker model is restrictive in terms of accessibility and financial inclusion. It is unnatural for retail intermediaries and entrepreneurs to not feel overwhelmed."
Disruption is on the Horizon:
Chowdhury says "that Nasdaq is set to be disrupted and proposes the solutions".
PayBito's mission aligns with Chowdhury's vision to democratize brokerage services and to empower both institutional and retail traders with the tools they need to succeed. By enabling access to trading and brokerage and combining modern technologies such as AI, blockchain, and cloud, the PayBito exchange presents an innovative solution addressing the limitations of existing exchange broker models, developing a whole new concept of Brokerage as a Service (BaaS).
1. Cloud Enabler: Brokerage as a Service (BaaS)-
In contrast to NASDAQ's traditional hosting requirements, PayBito's cloud-based BaaS allows brokers to set up their operations without worrying about installation, providing a more flexible and convenient option. It also includes features such as high-performance order matching, ChatGPT integration, and an intuitive UI. In addition, PayBito's blockchain technology provides a secure and transparent environment for all transactions, instilling trust and integrity in the trading process.
2. Affordably Designed for the Internet Era-
Paybito's comprehensive monthly subscription of $49.99 democratizes brokerage access. The platform eliminates the need for host servers, coding, or integration. With access to all trading options, including advanced AI recommendations and algo trading, PayBito is a good solution for hassle-free trading.
3. Working for Retail Traders-
The PayBito broker platform features advanced trading tools that were previously reserved only for institutional investors. The PayBito platform leverages the power of AI-powered analysis, empowering retail users to make informed trading decisions. PayBito's Data Engine analyzes millions of trades and news data to deliver accurate buy and sell signals to retail traders. It self-learns and refines its recommendations based on the insights it gains from experienced traders and changing market conditions.
4. Creating Financial Inclusion-
Raj Chowdhury states, "PayBito envisions a future where anyone can choose brokerage services as easily as any other career option without fussing about expenses, infrastructure setup, or operational hassles."
The PayBito exchange offers a more accessible option for traders of all kinds. Unlike NASDAQ, PayBito completes the entire broker registration process within 3 minutes, making it a faster and more cost-effective option.
Social Contribution through the Brokering World Hunger Away Movement:
PayBito is committed to positively impacting society, and the Brokering World Hunger Away campaign is a testament to that. The campaign encourages associates to give back to the community by matching the amount of commission raised by its affiliate brokers to feed undernourished children. In contrast, NASDAQ's model is solely focused on profits, ignoring the needs of society and the environment.
Creating a democratized financial world and a stable world economy:
PayBito's innovative platform is the future of trading, democratizing brokerage access and putting power back in the hands of retail traders. By embracing blockchain and AI technologies and prioritizing the needs of society, PayBito is disrupting the financial industry and leading the charge toward a more equitable and sustainable future, offering endless opportunities for enthusiasts with the highest level of security and expert investment guidance.
Raj Chowdhury is the Managing Director of HashCash Consultants and Paybito. Raj pioneered the first interbank Trade Finance and Remittance implementation of Blockchain Technology between two of the largest global banks. Raj is an eminent voice in the Blockchain and Cryptocurrency space and actively engages with policymakers in this area. He is a contributor to Economic Times, Business World, CNNMoney and advises industry leaders in the adoption of Blockchain. He is a member of Asha Silicon Valley, a nonprofit committed to education for children in emerging countries. Author of the book 'The Dark Secret of the Silicon Valley', Raj is an investor in blockchain and cryptocurrency companies and an active member of the philanthropic community.