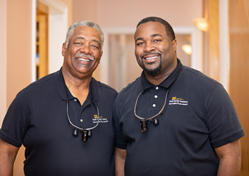 VICKSBURG, Miss. (PRWEB) March 27, 2019
Drs. Jonathan Nash and Kenneth Nash, the father-son dental team at Nash Family Dentistry, urge all individuals to obtain the help and advice of a dentist for improved overall healthcare. Drs. Nash accept patients as young as age five, helping them discover the advantages that come from having a family dentist in Vicksburg, MS, early in life. One of the biggest benefits to having a family dentist can be the opportunity to schedule all family members' family dentistry appointments on the same day for greater efficiency and value.
Family dentistry concentrates on full-service treatment to address a wide range of dental problems and maintain healthy teeth, gums and jawbone throughout adulthood. In addition to preventive dentistry procedures such as regular six-month check-ups, dental cleanings and x-rays when necessary, Drs. Nash offer a variety of comprehensive dental procedures and solutions. These include gum disease management, plus restorative and cosmetic treatments.
Managing gum disease is one of the most important aspects of any dental plan, especially for those who present with warning signs of the condition. Some of the biggest indicators of potential gum disease include bleeding gums, chronic bad breath, swollen gums, red gums and loose teeth. Consistent deep cleanings and maintenance appointments can ward off progressive gum disease and its oral and systemic effects.
Restorative treatments can include single and full arch dental implants, implant supported dentures, and bone grafting. Additionally, Drs. Nash focus their attention on helping patients with failed or failing dental implants to bring their smiles back to optimal health.
This team offers a wide variety of cosmetic treatments from professional, dental-grade teeth whitening and porcelain veneers to clear braces. Although cosmetic dentistry concentrates on the aesthetics of teeth and gums, it can also have far-reaching effects from a functional standpoint.
Individuals interested in having a family dentist in Vicksburg, MS, are encouraged to contact Nash Family Dentistry at 601-634-1812. Appointments can be scheduled for multiple family members at once for the patient's convenience.
About the Dentists
Nash Family Dentistry is a general practice offering personalized dental care for patients in Vicksburg, MS. Dr. Kenneth Nash, Dr. Jonathan Nash and their team provide patients with the latest in dental technology in a comfortable and welcoming environment. Drs. Nash offer a variety of services including laser dentistry, dental implants, and cosmetic dentistry services, among others. To learn more about the services offered at Nash Family Dentistry please visit the website at http://www.vicksburgdentist.com or call 601-634-1812 to schedule an appointment.