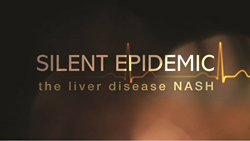 I rarely drink and always thought cirrhosis was just a drinker's disease
PITTSBURGH (PRWEB) June 11, 2019
Today NASH kNOWledge hosted a Liver Disease Information Breakfast at PNC Park in Pittsburgh, Pa as a precursor to International Nonalcoholic Steatohepatitis (NASH) Day, a global effort in the fight against NASH. Community leaders came together to learn more about the next looming public health crisis and what they can do to help. The event also included a pre-screening of the documentary, "Silent Epidemic: The Liver Disease NASH," and attendees heard directly from NASH survivor and NASH kNOWledge founder, Tony Villiotti, along with medical experts.
"When the doctor called and told me that I had cirrhosis of the liver I thought they accidentally called the wrong patient, "says Villiotti. "I rarely drink and always thought cirrhosis was a drinker's disease. That call was the beginning of a long and arduous NASH journey. I believe I'm still here because I'm meant to educate and help others learn more about this disease, how it can progress to such a fatal state when not taken seriously, and also break the stigma. A poor diet can damage the liver as much as alcohol."
Allegheny County in Pennsylvania has proclaimed June 12, 2019 International NASH Day to participate in the global fight. NASH kNOWledge will debut the documentary to the public, "Silent Epidemic: The Liver Disease NASH" in a free event at 7pm at the Carnegie Science Center as part of the NASH Day activities in Pittsburgh on June 12.
Over 50 organizations worldwide are coming together tomorrow to raise awareness for NASH and promote early intervention, which affects more than 115 million people worldwide.
Villiotti founded NASH kNOWledge just months after his March 2018 liver transplant, while reflecting on his journey and what he wish he would have known about this disease when he was first diagnosed with a simple fatty liver approximately 13 years ago. Villiotti had been overweight his entire life so being told to lose weight and eat better never struck him as unusual.
"While reflecting on my experience post-transplant, I realized that I unknowingly had 13 years to reverse the damage, but I didn't know what I didn't know," Villiotti states. "That is where NASH kNOWledge, the documentary and our fatty liver roadmap were born. I truly believe we are on the brink of a nationwide epidemic, mainly due to the modern-day American diet. Being a patient myself makes it real for people and I hope it opens their eyes. I really just want to help others prevent a similar fate and understand the negative consequences of a poor diet."
Non-alcoholic steatohepatitis (NASH) is the progressive form of non-alcoholic fatty liver disease (NAFLD) and approximately 20% of NAFLD patients develop NASH. NASH is where fat globules accumulate in liver cells, leading to cell death and the development of inflammation. With years of chronic inflammation, scar tissue begins to form and cause liver fibrosis and when fibrosis is severe, it becomes cirrhosis, which can result in liver failure and liver cancer. The only cure for NASH cirrhosis at this time is a liver transplant.
NASH is known as the "silent epidemic," since its symptoms are not overt and it currently requires invasive biopsy for diagnostic confirmation. NASH is expected to become the #1 cause of liver transplant by 2020 in the United States, and its prevalence is projected to increase globally in association with obesity and type 2 diabetes. NASH is poorly-known, under-diagnosed, and as such represents a growing global public health issue in most countries worldwide. NAFLD prevalence is estimated to be highest in the Middle East (32%) and South America (31%), followed by Asia (27%), the United States (24%), Europe (23%) and Africa (14%).
The purpose of IND is to shine a spotlight on NASH and increase awareness among various populations: the general public, at-risk patients, the medical community, public health authorities, and the media. Global activities include events, briefings, media outreach and social media promotion and engagement. The goal of IND is to promote early intervention and make sure that all populations at risk for developing NASH, know to talk to their doctor about getting screened.
"We are thrilled to see so many groups come together around the world to collectively address this silent epidemic that affects millions worldwide," says Gina Madison, Executive Director at NASH kNOWledge. "Our hope is the documentary will be a wake-up call for many and really just help start the conversation and make the public more aware of NASH. As a nation, we just need to literally cut the C.R.A.P. (Carbonated Beverages; Refined Sugars; Alcohol; Processed Foods) and commit to getting healthier, especially with kids and adolescents. This disease is real, and it's serious. But the good news is that it is also preventable and reversable with the right education and action. So that is where we come in. At NASH kNOWledge we just want to inform the public about NASH by using my dad's story."
# # #
About NASH kNOWledge
NASH kNOWledge is a 501(c)(3) tax-exempt not-for-profit organization, headquartered in Pittsburgh, PA, United States. NASH kNOWledge was established to increase public awareness of nonalcoholic fatty liver disease (NAFLD) and nonalcoholic steatohepatitis (NASH). The target audience for NASH kNOWledge is the general public and those newly diagnosed with NAFLD or NASH.
For more information on NASH kNOWledge, visit or http://www.nash-now.org, Follow us on Facebook at http://www.facebook.com/NASHkNOWledge
For more information on International NASH Day go to http://www.international-nash-day.com/ or lend your support on social media using hashtag #NASHday.