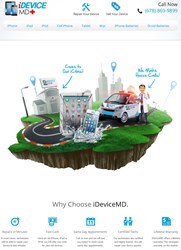 Authorized agent status will be given only to those agents who demonstrate their dedication to quality, first-class customer service and have the knowledge and skills necessary to perform the job according to the iDeviceMD standards. Dru Pio - President
Nashville, TN (PRWEB) November 05, 2013
iDeviceMD, a leading iPhone repair and iPad repair company with locations throughout the United States, is pleased to announce the roll out of their Authorized Agent program to cities throughout the state of Tennessee. The program that enables local resellers and repair experts to leverage the iDeviceMD name and marketing engine will now be offered in Nashville, Knoxville, Chattanooga and other cities in the state of Tennessee.
As an authorized agent, resellers will receive all the benefits of the iDeviceMD marketing power as well as access to premium parts, without any iPhone and iPod repair franchising fees. Once the authorized agent status has been confirmed, iDeviceMD will begin forwarding live phone calls as well as online service requests so that the agent can begin accepting service requests and setting appointments. In addition, those with authorized agent status will have a listing placed on the iDeviceMD authorized agent page and will have permission to display the authorized reseller logo on their marketing materials. They will also receive a generous discount on iDeviceMD parts and accessories.
This move is just another step in iDeviceMD's expansion into the ever growing iPhone and iPad repair market. According to Squaretrade, a company that offers warranties on iPhones, iPads and other devices, Americans have spent approximately 5.9 billion dollars repairing their devices since the iPhone was first released in 2007. With technology quickly evolving and Americans becoming more and more dependent on their electronic devices, this number is only expected to increase.
iDeviceMD, headquartered in Atlanta, GA, started as an iPhone and iPad repair specialist and now has expanded into other services including buying and selling used iPhones and iPads. According to founder Dru Pio, "By bringing our authorized dealer program to Tennessee, we are giving smaller operators in Tennessee the buying power to purchase quality iPhone, iPad and iPod parts and accessories and to use their technical expertise to provide high quality, affordable iPhone, iPad and iPod repair services. To ensure that the iDeviceMD quality and service standards remain high, we will provide this unique opportunity to a select few agents in each city. Authorized agent status will be given only to those agents who demonstrate their dedication to quality, first-class customer service and have the knowledge and skills necessary to perform the job according to the iDeviceMD standards. By authorizing only a few resellers in each city in Tennessee, we are giving these agents the best opportunity to take advantage of the market in their respective areas."
About iDeviceMD:
iDeviceMD is an iPod, iPad, iPod and Samsung Galaxy repair specialist with locations throughout the United States. They have made name for themselves by offering quick and convenient, expert repair services at affordable prices. In addition to repairing cell phones and other electronic devices, iDeviceMD also buys and sells used iPhones and iPads.
For more information about the iDeviceMD authorized agent program, please send an email request to info(at)idevicemd(dot)com. A member of the iDeviceMD sales team will contact you within ten business days after the form has been received.