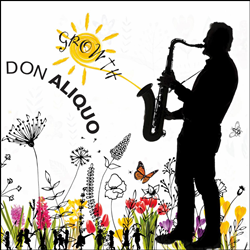 I wanted to go beyond basic variations on bebop and hard bop and embrace other sounds, including avant-garde. I definitely wanted to write and perform some pieces in a more open context that would stretch me.
RICHMOND, Calif. (PRWEB) January 12, 2023
Saxophonist Don Aliquo lives up to the title of "Growth"—his eighth album, set for a February 17 release on Ear Up Records—with a trial by fire. Armed with his tenor sax and bass clarinet, as well as two venturesome, piano-less quartets, the Nashville area-based artist pushes past his established comfort zone and into more precarious and challenging improvisational territory.
Aliquo's eight original compositions are equally audacious. They are simultaneously complex and wide open, signaling that the leader is broadening his boundaries not just as an instrumentalist and improviser but as a composer as well. "I wanted to go beyond basic variations on bebop and hard bop and embrace other sounds, including avant-garde," the reedman explains. "I definitely wanted to write and perform some pieces in a more open context that would stretch me."
More than a charting of his personal development, "Growth" doubles as a chronicle of the burgeoning Nashville jazz scene, with songs highlighting the more colorful corners of the aptly nicknamed "Music City." It's also apt that Aliquo (a Pittsburgh native) should be joined on this expedition by the cream of the jazz crop in his adopted hometown. His companions include trumpeter Rod McGaha, guitarist Steve Kovalcheck (since transplanted to Denver), bassists Jacob Jezioro and Jonathan Wires, and drummers Marcus Finnie and Danny Gottlieb.
Having taken down the musical guardrails (especially on the tracks without Kovalcheck, which leave only the bass for a harmonic outline) doesn't mean that Aliquo shies away from the precipice. Whether somersaulting his way across a marathon solo on "Lower Broadway Rundown," staking out rhythmic freedom on "For the Vulnerable," or charging through the structural labyrinth of "Salt and Light," Aliquo takes seriously the proposition of Wayne Shorter (an important influence on "Growth") that "Jazz means 'I dare you.'"
Yet strong melody and groove remain priorities as well. In particular, "Woman Clothed in the Sun" and "Blues for Duffy and Doug" each boast memorable hooks, the former moving in a confident strut and the latter with easy swing. Challenging, adventurous music, Growth reminds us, can still be fun to listen to.
Don Aliquo was born May 10, 1960 in Pittsburgh, Pennsylvania. His father, Don Sr., was (and is) a much-in-demand jazz saxophonist in Pittsburgh and introduced his son to the music at an early age. Don Jr. began his own musical practice on the clarinet in elementary, but his father convinced him that the saxophone would allow him to get more work in jazz. Indeed, he was soon able to get his dad's work—sitting in on gigs with Don Sr.'s bands.
By the time he had finished high school, however, Don Jr. had carved out a niche for himself in Pittsburgh's rich jazz tradition, working with the likes of trumpeter Benny Benack as well as jamming with saxophonist Stanley Turrentine. He enrolled in 1978 at Duquesne University, then moved on to Berklee College of Music in Boston (along with Duquesne classmate Jeff "Tain" Watts), but quit Berklee to go on the road with the Tommy Dorsey Band. After leaving the road, Aliquo returned to Duquesne for his undergrad and master's degrees.
Though he was throughout that time a reliable and esteemed saxophonist on the Pittsburgh scene, working with drummer Roger Humphries, among others, it wasn't until 1997 that Aliquo recorded his first album, "February Regrets," following it up two years later with "Power of Two." Shortly thereafter, he left the Iron City, co-founding (with pianist Dana Landry) the Jazz Studies program at Middle Tennessee State University in Murfreesboro, TN. His artistic career, however, soldiered on in his new home. He appeared on Landry's 2002 recording "The Journey Home" (also featuring legendary vibraphonist and educator Gary Burton); the pianist returned the favor by performing on Aliquo's albums "Another Reply" (2003) and "Jazz Folk" (2006, featuring bassist Rufus Reid).
The 2010s brought forth the 2010 recording "Sun & Shield"; 2015's "New Ties and Binds," co-led with trumpeter Clay Jenkins; and 2019's "Live at Hinton Hall (The Innocence of Spring)," a duo with pianist Michael Jefry Stevens. The decade also brought opportunities to play and teach in China and Colombia, with a performance in Spain following in 2021. It's all been part of a remarkable growth cycle for Aliquo, in personal as well as professional terms. "Nashville has come a long way in the past 20 years," he says, "and in many ways I think I have as well."
Don Aliquo will be performing a CD release show on Sat. 2/18 at Rudy's Jazz Room, 809 Gleaves Street, Nashville, with Rod McGaha, tpt; Jacob Jezioro, b; and Chester Thompson, d.