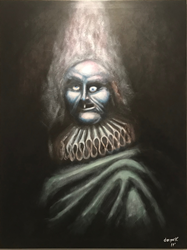 ...things that are spontaneously coming to my mind at weird moments, you know, like when you're in the shower or on the toilet
NASHVILLE, Tenn. (PRWEB) July 09, 2020
Painting from downtown Nashville, TN's historic Arts District, Chicago-born York virtually showcases his new series which he calls Delusionism.
When asked what Delusionism means, he says, "It's a word that me and my daughter made up on a road trip a while back. I wanted a new word that described my work, what I felt that it does to someone. When I watch people view my work in person at the Gallery, it starts off kinda like a quick-grab assault. Once I've got their attention, I watch them move from their universe over to the one I've created. I think there's a reality to my work, something very relatable from real life. And then I go and add some "whatever I want" in there and it ends up like that. It's like being delusional, hence the word. You relate with it, or at least, you think you do. I like giving people that little escape from the everyday."
A couple of the new releases like, "My Brother, Cornelius" and "I'm a Libra", harken back to post middle-age portrait painting convoluted by cartoon-horror-esque characters while maintaining an odd, friendly familiarity.
The Chicago-born York, when recently interviewed by The Art OF explains his process: "…things that are spontaneously coming to my mind at weird moments, you know, like when you're in the shower or on the toilet. And they're mixed with real events that happen to me and that I feel will make an impact on a canvas."
A few of his others in the series are almost child-like crayon drawings portraying life with the glare of real people, but being painted by your little brother. "A lady once asked me if I'd ever been institutionalized while viewing my work in the Gallery," York explains while looking at "I Love You in My Own Way", a family portrait imagined by York. I said, "'They don't have Netflix.'"
York's work is not currently on display, but will resume after the Pandemic subsides.
Some of his pieces can be viewed online at his website at http://www.danielmatthewyork.com as well as his Instagram page @danielmatthewyork .