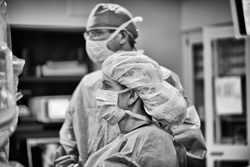 Dr. Ferguson says, "My decision to move to Nashville was inspired by the excitement of merging my skill set and fund of knowledge with Dr. Byrd's, whose innovative, dedicated work in hip preservation surgery via arthroscopic techniques is unparalleled."
Nashville, TN (PRWEB) September 06, 2017
Drs. J.W. Thomas Byrd and Tania A. Ferguson are merging 40 years of expertise as global leaders and pioneers in hip preservation and restoration to form the Nashville Hip Institute. The Institute, formerly known as Nashville Sports Medicine and Orthopaedic Center, is dedicated to the comprehensive care of any individual plagued by hip problems. This includes athletes and fitness enthusiasts, those suffering the consequences of progressive hip deformities, and also the disabling effects of arthritis.
Dr. Ferguson arrives in Nashville after more than a decade of work mastering hip preservation and pelvis reconstruction techniques. She launched her career under the tutelage of two of the world's foremost experts in open hip surgery: Drs. Joel Matta and Jeff Mast. She is a hip surgeon, focused exclusively on surgeries of the hip and pelvis, and is celebrated globally for her innovative work in acetabular fracture surgery, reorientation osteotomies for hip dysplasias (PAO and Surgical Hip Dislocation), and her pivotal role in the advancement of the anterior approach total hip arthroplasty (aTHA) in the United States. Her clinical practice and surgical skills set a new standard for outcomes after complex hip preservation and reconstruction surgeries, and her patients travel great distances seeking care of complicated deformities, revision surgeries after failed previous attempts, fractures of the pelvis and acetabulum, and for her experience with the anterior approach THA. Travelling the world as an educator of hip surgery, Dr. Ferguson has reached millions of patients by teaching surgeons these techniques, and training the new generations to be able to better treat their own patients. She represents the AO Foundation as the first elected female trustee, has an NIH K30 Master's Degree in Advanced Clinical Research, and her contributions towards the academic evolution of hip surgery is evidenced by her many scholarly publications, book chapters, and on-line educational programs utilized by patients and surgeons learning about pathologies of the hip and pelvis. Dr. Ferguson says, "My decision to move to Nashville was inspired by the excitement of merging my skill set and fund of knowledge with Dr. Byrd's, whose innovative, dedicated work in hip preservation surgery via arthroscopic techniques is unparalleled."
Dr. Byrd founded the Nashville Sports Medicine and Orthopaedic Center and is the third generation of physicians in his family to serve the Nashville community. He pioneered the technique of hip arthroscopy that is most popularly used throughout the world. This technique has become the basis of many arthroscopic procedures designed to correct damage and restore function for many disabling hip conditions. He has authored numerous textbooks and hundreds of publications on these topics. Dr. Byrd has served as president of the Arthroscopy Association of North America (AANA) and the International Society for Hip Arthroscopy (ISHA), in addition to his responsibilities as team physician for the Tennessee Titans, consultant for many professional sports franchises, and board member of the Titleist Performance Institute. Dr. Byrd said that "Dr. Ferguson's presence brings a unique skill set not previously known to this area; and collectively our clinical and surgical backgrounds complement each other such that we can provide a comprehensive treatment strategy for the many athletes and other patients who travel here from around the globe seeking our care."
The surgical pairing of Drs. Byrd and Ferguson is one essential element that steers the Nashville Hip Institute. However, comprehensive care requires a multidisciplinary approach, including nursing staff, midlevel providers, physical therapists and an elite surgical team. The Institute is founded on experienced and knowledgeable seasoned members at every level. For Drs. Byrd and Ferguson, and more importantly the patients they serve, years of providing the highest level of care on two sides of the continent are now brought together under one roof. This resets the bar on what constitutes the best of clinical care, education and research.
About Nashville Hip Institute
The Nashville Hip Institute was formed through the collaboration of renowned hip orthopaedic surgeons Dr. J.W. Thomas Byrd, founder of Nashville Sports Medicine and Orthopaedic Center, and Dr. Tania Ferguson. Combining Dr. Byrd's pioneering work in hip arthroscopy with Dr. Ferguson's expertise in "open" treatments for hip preservation surgery (PAO, Hip Dislocation) and reconstruction procedures, the Nashville Hip Institute offers the most comprehensive diagnostic and treatment approaches to patients with hip pain from virtually any cause, at any age. For more information, please visit http://nashvillehip.org