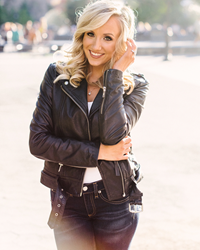 We are eager to reveal our new designs as part of our exclusive collaboration with Nastia and plan to marry the needs and style of a true Olympic champion and trendsetter with the needs of our consumers. - Aaron Luo, Caraa Co-Founder & CEO
New York, NY (PRWEB) April 12, 2016
5-time Olympic Medalist and current NBC Sports on-air personality Nastia Liukin has signed an exclusive partnership with Caraa to create a multi-purpose, fitness fashion handbag that will be available to the general public in the summer of 2016. Liukin joins an industry-leading brand who has set the tone in a product category with the fastest estimated growth projections in consumer goods today.
The connection between sportswear and fashion is steadily obscuring the difference between casual and active sports apparel. Women in particular have demonstrated an appetite for fashionable workout wear. Increased emphasis on versatility, convenience, fashion, comfort and style have created a strong demand for sports and fitness apparel that offer both functional performance and style.
Athleisure is no longer just a trend; it's a lifestyle that more women are adopting. According to a recent study conducted by the Caraa research team, activewear is a $35B market, with the fitness handbag and accessories segment making up a 3.6% share. Caraa estimates that number will rapidly grow to over 10% in the next 5 years and is positioned to be at the forefront of driving this growth through innovation and design.
In 2016, there are very few brands servicing the high fashion/high fitness handbag category at retail price points below $600. Caraa Co-Founder & CEO Aaron Luo together with Carmen Chen Wu, a New York Parsons School of Design graduate and CFDA award winning fashion designer, sought to fill a need for innovation centered around the customer shopping experience, product design and merchandising in the fitness fashion industry.
"At Caraa we are starting with the fitness handbag category but we are really speaking to a larger, yet neglected audience - women who seek the best in fashion and fitness without paying a super high premium for luxury materials and versatile functionalities," says Luo. "Establishing this exclusive design collaboration with Nastia is a natural fit because she is an inspiration to millions of women living the Caraa lifestyle; women who are bold, fearless, beautiful, and prioritize health, fitness and athleticism at the core of who they are. Demand is high for our products, and fitness enthusiasts are hungry for the innovative solutions that we offer in our handbags and accessories. We are eager to reveal our new designs as part of our exclusive collaboration with Nastia and plan to marry the needs and style of a true Olympic champion and trendsetter with the needs of our consumers."
Caraa has adopted a lean approach to business, placing consumers at the core of product design and development unlike the traditional trendsetter model of fashion design. Today's consumers, especially Millennials, don't want to be told how to dress or what to wear. With Liukin's help, Caraa will create versatile products that are consumer-driven, directly in tune with the wants and needs of the active fitness enthusiast.
About Premier Management Group (PMG Sports)
Premier Management Group is an elite sports marketing agency with a goal to create a space in the industry that is completely unique through superior creativity and innovation. PMG Sports has set out to provide each of its clients with the same level of professional representation and service. Additionally, PMG Sports is an industry leader in providing corporate consulting services and treats each client, whether an athlete or corporation, with an added personal touch. For more information, visit our website at http://www.pmgsports.com.
About Caraa
Caraa is an industry leading next generation direct to consumer luxury fitness brand based in New York City that bridges high fashion with performance fitness functionalities. For more information, visit our website at http://www.caraasport.com.