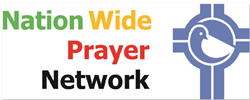 Unification Prayer Around the Nation to Decrease Violence
PHILADELPHIA, Pa. (PRWEB) September 28, 2018
Nation Wide Prayer Network presents "All Saints Day Celebration Around the Nation"
Nation Wide Prayer Network (NPN), was born out of Pentecost Celebration in Philadelphia in June, 2014. The Prayer leaders have continued their mission to pray and now service approximately 45,000 weekly listeners. Individuals participate through weekly phone conference calls or through the group's social media channels. See Site for Details http://www.nationwideprayer.org
Currently NPN is embarking on a new National effort to help reduce violence around the nation, especially youth violence, by focusing over the next 12 months on the cities of Cleveland, Ohio and Philadelphia, Pennsylvania. There is too much violence today. Too many needless deaths and innocent victims. Our youth and young adults need God's love. What can one person do? Maybe it would seem not much. But what if thousands and thousands of people joined together to PRAY for a decrease in violence? Then, Miracles CAN happen!!! Matthew 18:20 "For where two or three are gathered together in my name, there am I in the midst of them."
You are cordially invited to Join NPN for a National Prayer Service on "All Saints Day"-Thursday, November 1, 2018. This will be a gathering of Christian prayer leaders/warriors uniting together against violence through the power of Unification Prayer.
NPN will host a live 1-hour prayer session from 7-8PM EDT via in-person, social media and telephone.
Join NPN in person at 7pm:
Pastor Tony Lee of "Garden of Prayer Ministry", 707 East 159th St., Cleveland, OH
Reverend Edward Rix at "All Saints' Church" 1325 Montgomery Ave., Wynnewood, PA 19096 (special service times are at 10am on November 1st and November 4th)
Join NPN via Social Media/Satellite from Philadelphia 7pm :
On Facebook, Periscope, YouTube Click Here for Nation-Wide-Prayer app
Join NPN via Telephone 7pm:
Call in at 319-527-3043 or toll free at 844-800-2000 access code 664 110#
See our site for more details on all locations information.
About the Nation Wide Prayer Network: NPN is an intentional and prayerful effort to encourage believers to have a growing, deepening and practical relationship with the Holy Spirit. The unification of believers will be seeking to advance the Kingdom of God through the use of technology.