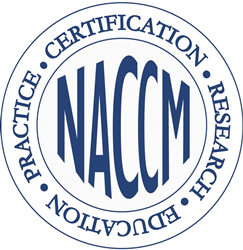 "Clients, employers, and partners can feel confident in their choice when working with a CMC credentialed Care Manager, knowing that anyone who holds this designation is a leader in the field."
TUCSON, Ariz. (PRWEB) December 12, 2022
The National Academy of Certified Care Managers (NACCM) received accreditation for the Care Manager Certified Program (CMC) from the National Commission for Certifying Agencies (NCCA). NCCA accreditation means that NACCM's processes meet the rigorous quality standards for professional certification. The accreditation is for a five-year period, expiring December 31, 2027.
"It is an honor to be recognized in this way by NCCA," said Byron Cordes, LCSW, C-ASWCM, CMC, President of the NACCM Board of Directors and Fellow of the Aging Life Care Association® Leadership Academy. "Clients, employers, and partners can feel confident in their choice when working with a CMC credentialed Care Manager, knowing that anyone who holds this designation is a leader in the field."
Care Managers work one-on-one with clients to create and manage a care plan. Founded in 1995, NACCM is the premier professional certification organization for Care Managers in the U.S., establishing and enforcing standards and best practices in education, examination, experience, and ethics. CMC designated Care Managers are qualified to perform the full range of care management tasks through education, field training, experience, and passing a validated, standardized examination. Testing for the CMC Program is administered by Professional Testing Corporation.
Currently, 1339 Care Managers are eligible to use the CMC designation. Each one has met rigorous requirements and must participate in continuing education credits to maintain their credentials, which must be renewed every three years.
NACCM is headquartered in Tucson, AZ. Learn more about their program at naccm.net.
NACCM received this accreditation by demonstrating compliance with NCCA's Standards for the Accreditation of Certification Programs. NCCA is the accrediting body of the Institute for Credentialing Excellence (formerly the National Organization for Competency Assurance). Since 1977, the NCCA has been accrediting certifying programs based on the highest quality standards in professional certification to ensure the programs adhere to modern standards of practice in the certification industry. There are more than 315 NCCA-accredited programs that certify individuals in a wide range of professions and occupations.