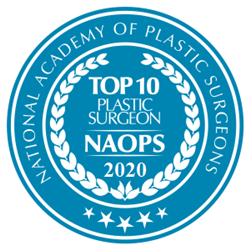 Less than 1% of plastic surgeons nationwide qualify for this exclusive award.
BEVERLY HILLS, Calif. (PRWEB) April 13, 2020
Dr. Benjamin G. Swartout, a highly-esteemed facial cosmetic and reconstructive surgeon in Beverly Hills, is honored to be listed as one of California's top 10 plastic surgeons in 2020 by the National Academy of Plastic Surgeons. Less than 1% of plastic surgeons nationwide qualify for this exclusive award. A multi-phase selection process examines the credentials and artistry of each candidate to ensure that only the most skilled plastic surgeons are selected for this prestigious designation.
To create their list, the National Academy of Plastic Surgeons identifies surgeons who demonstrate the highest degree of excellence and also give back to the community. Dr. Benjamin Swartout is a facial plastic and reconstructive surgeon who specializes in otolaryngology—head and neck surgery. Dr. Swartout qualified for this prestigious honor based on his career achievements, outstanding reputation, professional experience, patient satisfaction, and community impact. The surgeon has a 5-star rating on Google and Healthgrades.com and is dedicated to his patients' well-being.
Dr. Swartout attended college at Harvard and medical school at Albert Einstein College of Medicine in New York. He completed his internship in general surgery at New York University and then completed a specialty residency focused on otolaryngology, also at New York University. After completing his specialty training, Dr. Swartout completed a fellowship in facial plastic and reconstructive surgery at the University of Illinois at Chicago. Dr. Swartout teaches nasal surgery to Harbor UCLA residents, contributing to the education of future doctors and giving back to an underserved community. Dr. Swartout focuses on aesthetic and reconstructive facial surgery, including:

Eyelid surgery - Blepharoplasty corrects aging, droopy eyelids by tightening and removing excess skin, fat, and muscle.
Otoplasty - Cosmetic ear surgery corrects and balanced overly large or protruding ears.
Rhinoplasty - Rhinoplasty (nose job) restores facial symmetry, removes a nasal hump, addresses breathing issues, and meets other personal goals.
Ethnic rhinoplasty - Ethnic rhinoplasty is personalized to match the patient's natural facial structure so that the results look authentic.
Revision rhinoplasty - Revision rhinoplasty is a complicated procedure that restores breathing and repairs the appearance of the nose after a failed nose job.
Facelift - Rhytidectomy creates more youthful contours along the jaw and lower face and may be combined with Botox or eyelid surgery to reduce signs of aging around the eyes.
Dr. Swartout's special interests include the development of exceptional rhinoplasty techniques for long-lasting, natural-looking nasal shapes and unrestricted nasal breathing. He also sees many patients seeking rhinoplasty revision to repair a prior nose job, as this complex procedure requires years of specialized training and experience to avoid complications. Dr. Swartout is a member of the American Academy of Otolaryngology, American Academy of Facial Plastic and Reconstructive Surgery, and the American Rhinologic Society.
###
To schedule a private consultation with Dr. Benjamin Swartout in Beverly Hills, CA, call (310) 274-6005 or visit lafacialplasticsurgery.com.