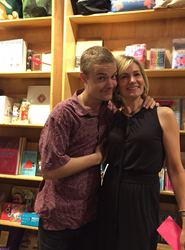 "I would never have 'gotten it' had it not been for my son, Will." Katherine Quie
ST. PAUL, Minn. (PRWEB) October 09, 2019
ADHD memoir, "Raising Will: Surviving the Brilliance and Blues of ADHD," by Dr. Katherine Quie is receiving national attention for its candor, real-life advice and wisdom. In fact, psychiatrist Edward Hallowell, known for his groundbreaking work on ADHD and its treatment, as well as 15 popular books on the subject, such as "Driven to Distraction" has described it in the following way:
"This memoir, this beautiful rendition of a life as it was lived by a family, is the real deal. Read it. Laugh, cry, learn, fly. Let this lovely, magical mother lead you into the lovely, magical worlds her son creates as they, together, discover the super-power embedded in the condition so misleadingly and inaccurately called ADHD. Not a deficit-disorder at all if managed properly, this fascinating condition can open new worlds for those who have it and help them open new worlds for the rest of humankind, which it has been doing for thousands of years. Bravo Katherine Quie!"
The review echoes similar feedback from a growing network of professionals, parents, ADHD experts and bloggers who write online about the struggles and surprising blessings of handling what can be a potentially devastating diagnosis for children and adults.
According to the Center for Disease Control, up to 6.1 million children and teens 4-17 have already been diagnosed with Attention Deficit/ Hyperactivity Disorder (ADHD) as of 2016. The real number of those affected is thought to be much higher, as only 20% or fewer of those suspected of having the disorder are brought to professionals for treatment. The experience of untreated ADHD can create severe disruptions to functioning in school, home and with peers, leading to statistically higher rates of under earning, depression, anxiety and even substance abuse among adults with untreated ADHD.
Dr. Quie, in her heartfelt, humble book, explores all these issues, as she chronicles her son Will's journey through the disorder and into healing. Today, a college student at Oberlin College and Conservatory and blues musician, her son ultimately was able to meet the challenges of the diagnosis through medical intervention, sensitive parenting and his own self-awareness, although it's an ongoing process. As Dr. Quie shares in her memoir, ADHD presented a significant and all-encompassing challenge for her and her family, both professionally and personally.
"It is my hope that through this book readers will come away with a greater respect for the impact a diagnosis, like ADHD, can have on a child, teen, and the entire family unit," says Dr. Quie. "I never would have 'gotten it', even with my years of clinical training and experience, had it not been for my son, Will."
Dr. Quie is in conversation with Dr. Hallowell and other ADHD experts throughout the country about ways to further promote the message of hope, and provide education and resources for those impacted by ADHD. She has shared about "Raising Will" on Dr. Hallowell's podcast, Distraction, and will notify her readers as soon as it airs. She is also writing blogs and articles for national organizations, like ADDitude and Attention Magazine. Her event schedule, blogs and contact information for concerned parents and interested professionals are available on her website https://kqadhdandu.com.