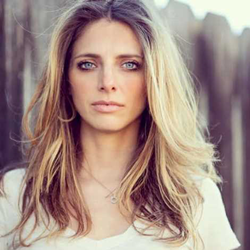 MEMPHIS, Tenn. (PRWEB) February 20, 2020
Executive Speakers Bureau is proud to announce its exclusive representation of motivational speaker, singer, and on-air personality, Janine Stange, for all speaking engagements.
Janine is better known as the "National Anthem Girl", having been the first person to accomplish singing the National Anthem at a major event in all 50 states, a mission she embarked on as a way to honor our brave military. Her journey is chronicled in 'National Anthem Girl', a new documentary from Kelly's Filmworks Studios now streaming on Amazon Prime.
In her keynote speech, "Discover and Honor Your Mission" – she takes the audience along on her journey. Through stories that are both comical and moving, Stange identifies the pitfalls to goals – and shares four life lessons that helped her navigate through and realize her 50-state goal. Ultimately, Janine Stange helps others uncover their own unique life mission and activates them to do what they can, with what they have, where they are.
Stange has spoken to and performed for groups across the country ranging from Fortune 500 companies to inner-city public schools. She connects to all ages and backgrounds providing a sense of citizenship, duty, and what service-over-self really means. She works closely with non-profits that empower and give back to our military and their families – and is the Founder of The Medal of Honor Mail Call, which collects letters, post-cards, drawings, and paintings from grateful Americans all across the country and distributes them to MOH recipients as a way to thank our nation's heroes.
For more information on inspirational speaker Janine Stange, contact Executive Speakers Bureau at (901) 754-9404.
ABOUT EXECUTIVE SPEAKERS BUREAU
Executive Speakers Bureau is proud to exclusively represent Janine Stange for all keynote speaking engagements. We are a full-service speakers bureau, taking pride in our ability to provide world-class service as well as our ability to deliver today's foremost professional speakers and expert trainers to clients around the world. It is our commitment to provide our clients with unparalleled service, access to hundreds of motivational speakers worldwide and individualized personal attention. For more information, visit http://www.executivespeakers.com or call us at (901) 754-9404.