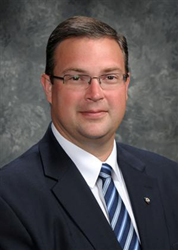 "I foresee a future where every child can achieve their creative, musical potential and share their voice and place in society through their artistic contributions." -- Scott Sheehan, NAfME 2020-22 National President-Elect
RESTON, Va. (PRWEB) February 18, 2020
February 13, 2020, the National Association for Music Education (NAfME) announced the 2020–2022 National President-Elect, Scott Sheehan, elected by NAfME members. Scott Sheehan is the Director of Bands and Music Department Chairperson at the Hollidaysburg Area Senior High School in Hollidaysburg, Pennsylvania. He is also a consultant for strategic planning and association development.
"My vision for music education is simple. I look forward to the day when all children study music in every school, in every grade, and in every culture regardless of where they live, their family's income, their personal identity, or the color of their skin," stated Sheehan. "I envision the day where music is held in the same regard as STEM and other tested subjects. I foresee a future where every child can achieve their creative, musical potential and share their voice and place in society through their artistic contributions. When this vision is realized, our country will see a more creative and musically literate society where all children have access to a music education that is culturally relevant, sequential and standards-based, and sustainable."
Every two years, the members of NAfME cast their votes for the next person to lead the association, and thus set the direction for NAfME in carrying out the association's Strategic Plan. The association values the contributions to music education from all the candidates who take part in this process and looks forward to Scott Sheehan carrying forth its long tradition of leadership in the field of music education.
Learn more about the selected Presidents-Elect:

Additionally, NAfME members adopted a bylaw amendment to expand the definition of Collegiate membership to include students who are not, or are not yet, enrolled in music teacher education programs.
###
National Association for Music Education, among the world's largest arts education organizations, is the only association that addresses all aspects of music education. NAfME advocates at the local, state, and national levels; provides resources for teachers, parents, and administrators; hosts professional development events; and offers a variety of opportunities for students and teachers. The Association has supported music educators at all teaching levels for more than a century. With more than 60,000 members teaching millions of students nationwide, the organization is the national voice for music education in the United States.
Follow NAfME on Twitter (twitter.com/nafme) and on Facebook (facebook.com/nafme).
For additional information, contact Catherina Hurlburt at catherinah@nafme.org or 703-860-4000.