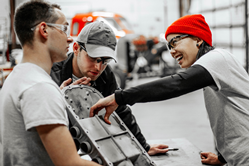 National Aviation Academy's Charles E. Taylor Scholarship is now available for the 2020-2021 school year.
CLEARWATER, Fla. (PRWEB) September 15, 2020
Winners of National Aviation Academy's Charles E. Taylor Scholarship have been awarded for the 2019-2020 school year, and applications are now being accepted for 2020-2021. This scholarship recognizes and encourages students pursuing careers in aviation maintenance, as well as promotes the future of aviation and, specifically, highly-trained airframe and powerplant (A&P) mechanics.
Charles E. Taylor was an American inventor, mechanic, and machinist. He built the first aircraft engine and was a vital contributor to mechanical skills in the building and maintaining of early aircraft. Known as the "Father of Aviation Maintenance," Taylor exemplifies the hands-on skills necessary to drive innovation into the future. National Aviation Academy's High School Scholarship is named in his honor.
After careful consideration, $7,000 in scholarship funding was awarded by National Aviation Academy to students from J.W. Mitchell High School, St. Petersburg High School, East Bay High School, F.W. Springstead High School, Palm Harbor University High School, Osceola Fundamental High School, and Taylor Academy. Recipients were selected based on their performance and drive as a student, and their understanding of the demand for and value of hands-on skills.
The Charles E. Taylor Scholarship is now available for the 2020-2021 school year.
Changes to this scholarship will expand eligibility to individuals in additional counties and to GED recipients. Awardees can apply scholarship funds to tuition at National Aviation Academy's Tampa Bay or New England campus. Furthermore, up to 10 additional $1,000 scholarships have been added for the upcoming year, increasing the total scholarship funds available to interested students to $20,000.
By expanding this scholarship's reach, NAA increases its investment in and opportunity for the next generation of aviation maintenance technicians, who are essential to the aviation industry.
Request more information or visit naa.edu to learn more!
About National Aviation Academy
National Aviation Academy (NAA) has provided world-class aviation maintenance training since 1932. Dedicated to building a quality aviation maintenance workforce, NAA offers training in Aviation Maintenance and Advanced Aircraft Systems. A worldwide reputation has been cultivated through the use of innovative curriculum, hands-on training, and a forward-thinking sensibility. Students gain industry knowledge and exceptional skills by engaging with faculty who have years of experience across all maintenance sectors. Companies that hire NAA graduates offer long-term and viable careers with earning and growth potential. NAA trains individuals from across the globe at campuses located in Clearwater, FL, and Concord, MA. For more information, call (800) 659-2080 or visit naa.edu.