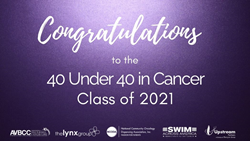 CRANBURY, N.J. (PRWEB) November 09, 2021
Forty of the nation's most promising young oncology professionals will be recognized during the "40 Under 40 in Cancer – Class of 2021" virtual ceremony on Wednesday, December 1, at 6:30 pm ET.
The RSVP link for the virtual awards event is http://www.tlg.site/2021-40U40VC.
Created by The Lynx Group in 2018, "40 Under 40 in Cancer" is an awards initiative to identify and recognize the contributions being made across the field of cancer by rising stars and emerging leaders under the age of 40 years.
Nominations come from across the country and represent the following categories:

Biopharma, Diagnostics, and Devices
Clinical and Patient Care Professional
Government, Regulatory, and Payer
Patient Advocacy and Policy
Research, Science, and Technology
Finalists and awardees are selected by a panel of reviewers from across diverse roles in oncology.
More information about "40 Under 40 in Cancer" awards, the nomination process, and the awards ceremony can be found at 40under40incancer.com.
The "40 Under 40 in Cancer" 2021 nominees include the following:
Biopharma, Diagnostics, and Devices:
Laura Leoni | Ipsen
Bryan Conner | Regeneron
Clinical and Patient Care Professional:
Mi (Emma) Zhou, MSW, LCSW | Mount Sinai Health System
Megan Langer, PharmD, BCOP | Allegheny Health Network
Anant Mandawat, MD | Emory University School of Medicine
Danya Garner, MSN, RN, OCN, CCRN-K, NPD-BC | M.D. Anderson Cancer Center
Brette Conliffe, PharmD, BCOP | UofL Health - James Graham Brown Cancer Center
Bob T. Li, MD, PhD, MPH | Memorial Sloan Kettering Cancer Center
Konstantinos Leventakos | Mayo Clinic
Erica Fischer-Cartlidge DNP, CNS, CBCN®, AOCNS®, EBP-C | Memorial Sloan Kettering Cancer Center
Julia Harwood | New York Cancer and Blood Specialists
Erin Price, MSW, LICSW, OSW-C | Smith Center for Healing and the Arts
John Khoury, MD | The Oncology Institute of Hope and Innovation
Jorge J. García, PharmD, MS, MHA, MBA, FACHE | Miami Cancer Institute
Thuy Tran, PharmD, CSP | Specialty Pharmacy Service, Atrium Health
Jacob Hobbs | Avera Cancer Center
Oliver S. Eng, MD, FACS | University of Chicago Medical Center
Duncan Allen | OneOncology
Alicia Marie Gesenhues, PharmD, BCOP | Saint Elizabeth Healthcare
Stephen Matthew Schleicher, MD, MBA | Tennessee Oncology
Jocelyn Michelle Leworthy, MSc, CCLS, RECE | Gilda's Club Simcoe Muskoka
Marissa Fors, LCSW, OSW-C, C-ASWCM, CCM | CancerCare
Government, Regulatory, and Payer:
Star Jones, CPM | State of Wyoming Health Dept/Wyoming Cancer Plan
Jonathan K. Larsen JD, MPP | Temple University's Beasley School of Law Center for Public Health Law Research
Patient Advocacy and Policy:
Sidney Misigo Chahonyo | Hope for Cancer Kids
Shonna R. Andrews, BSN, RN | Sarah Cannon
Danielle Starling Pardue, Esq. | Triage Cancer
Rebecca Garland | Florida Cancer Specialists/Rx To Go, LLC
Regan Huneycutt | Colorectal Cancer Alliance
Anne Marie F. Rainey, MSN, RN, CHC | Clearview Cancer Institute
Valronica M. Scales, MEd | University of Maryland
Ashley Dedmon, MPH, CHES | Susan G Komen
Taylor Bell Duck, MPA | Merck
Research, Science, and Technology:
Jai N. Patel, PharmD, BCOP, CPP | Levine Cancer Institute
Elizabeth S. McKenna, PhD | Cancer Discovery, American Association for Cancer Research
Christopher Manz | Dana-Farber Cancer Institute
Julio Macias Pimentel, MSCTI | Wayne State University and Karmanos Cancer Institute
Wesley Wilson, MSc, PhD, MRSWA | Perelman School of Medicine at the University of Pennsylvania, Hospital of U Penn
Eleonora Dondossola, PhD | The University of Texas MD Anderson Cancer Center
Nitin Roper MD, MSc | National Cancer Institute
About The Lynx Group
The Lynx Group (TLG) is a premier medical communications and education company acutely focused on oncology and rare disease states. TLG specializes in market access to and with advanced practice providers, patients, and their caregivers. With more than 100 years of combined senior leadership experience, TLG continually creates award-winning medical education and cultivates strong relationships within proprietary brands serving patients and their caregivers, physicians, payers, nurses, pharmacists, navigators, and practice managers.
TLG has broad and deep experience in crafting custom, award winning solutions for life science and biotech companies. Currently, TLG partners with more than 50 of the top pharma and biotech companies globally. TLG proudly serves as co-founder and association management company of the Academy of Oncology Nurse & Patient Navigators (AONN+) and the Association for Value-Based Cancer Care (AVBCC).
About the Association for Value-Based Cancer Care
The Association for Value-Based Cancer Care (AVBCC) is a 501c (6) education organization dedicated to the exchange of knowledge among all stakeholders in the cancer care ecosystem responsible to ensure optimal care and access is delivered to all patients with cancer. The goal of AVBCC is to inform, educate, and foster exchange of current and future state information between all stakeholders: Oncologists and Hematologists, Nurses, Oncology Nurse Navigators, Pathologists and Geneticists, Pharmacists, Practice Administrators, Practice Managers, Patient Advocacy Organizations, Managed Care Organizations, Insurance Companies, Third-Party Payers, Integrated Health Delivery Systems, Cancer Centers of Excellence, Medical Directors, Pharmacy Directors, Pharmaceutical and Biotech Manufacturers, Personalized Medicine Providers, Researchers, and, of course, cancer patients.
Carol Bustos, (732) 992-1893
cbustos@the-lynx-group.com