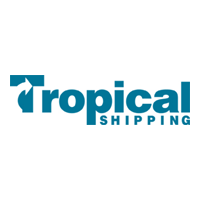 Employee Experience drives Financial Performance. This award is a direct result of Tropical Shipping's dedication to measuring and improving their Employee Experience.
RIVIERA BEACH, Fla. (PRWEB) October 29, 2020
The National Business Research Institute (NBRI) is pleased to welcome Tropical Shipping to the NBRI Circle of Excellence. The NBRI Circle of Excellence Award recognizes organizations with high levels of Employee Experience (EX). To qualify for this honor, the organization must score at or above Stretch Performance which is at the 75th percentile of their industry, or the organization must improve a statistically significant 5 or more percentiles at the Total Company level. It is no small feat to move an entire Company's EX score 5 or more percentiles, or to reach Stretch (75th) or Best in Class (90th) Performance levels within six to twelve months!
Tropical Shipping is benchmarked against their industry from within NBRI's Big Data of 10.5 billion responses. Benchmarked against millions of industry scores, Tropical Shipping is performing at the 75th percentile of their industry, achieving Stretch Performance! Best in Class organizations like Tropical Shipping continually assess EX, and target for improvement the variables that drive EX, including job satisfaction, management style, culture, and fairness.
Tropical Shipping demonstrates their dedication to their employees by continuously researching with Best in Class Provider NBRI and taking targeted action based upon the scientific data. From the pure psychological research to the hard, valid data, Tropical Shipping can have high levels of confidence in their targeted responses which have proven to be highly effective. NBRI commends the leadership of Tropical Shipping for their commitment to the Continuous Improvement Process and recognizes their achievements with the Circle of Excellence Award.
"Employee Experience drives Financial Performance," says Dr. Jan G. West, Ph.D., CEO & Organizational Psychologist at NBRI. "This award is a direct result of Tropical Shipping's dedication to measuring and improving their Employee Experience."
About Tropical Shipping
Tropical Shipping made its maiden voyage to Freeport in 1963, with its landing craft the MV Tropic Ace, carrying machinery and building supplies. Today, Tropical operates ships from Canada and South Florida to The Bahamas and Caribbean, as well as providing inter-island transportation services throughout the region. Our customers transport everything imaginable - and we handle it all, from small packages to millions of tons of grocery products and building materials. Tropical Shipping's relationship with our Caribbean and Bahamian neighbors is deep and lasting, built on leadership, trust, responsiveness, and good corporate citizenship. Everything Tropical Shipping does, every value we stand for, every course of action we take, is intended to deliver the highest level of service to our customers. From booking cargo and cargo tracking to delivering cargo on time, we are focused on reliability and on doing what we say.
About NBRI
NBRI conducts psychological Employee, Customer, and Market Research for businesses, and uses this data to help organizations leverage these human factors to make improvements to operations and strategy. With its extensive experience across all industries, NBRI's research teams bring their clients a combination of deep industry knowledge and expert advice. NBRI's mission is to help their Clients set new standards of excellence in their industries. NBRI product offerings, such as Benchmarking and deep, inferential analyses like Random Forest with Artificial Intelligence and Machine Learning, ensures their clients will focus on the most impactful issues.
National Business Research Institute, Inc.
2701 Dallas Parkway; Suite 650
Plano, TX 75093
972-612-5070
800-756-6168
https://www.nbrii.com
Tropical Shipping
501 Avenue P
Riviera Beach, FL 33404
561-881-3900
https://www.tropical.com