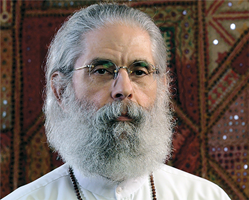 If we hold our politicians to the high standard of truth rather than non-truth, are we not bound by the same standard–to use the Conscience as our guide in all we say and do? -- Leonard Perlmutter
AVERILL PARK, N.Y. (PRWEB) January 19, 2021
In the midst of historic and painful political, public health, economic and racial crises, Americans of all ages are seeking the Truth and wisdom they need to guide their choices and ensure their continued freedom and wellbeing. To expand their understanding of how the human Conscience can be optimized to solve all of life's challenges, Leonard Perlmutter, founder of the American Meditation Institute(AMI) and National Conscience Month, will teach two special six-week workshops entitled the Foundation Course of Yoga Science beginning on Saturday afternoons February 13 and Wednesday evenings March 3, 2021.
When news of disturbing events is ever-present, Truth can feel elusive. We look to external sources to learn what is true, but we come away feeling confused and hopeless. In his upcoming workshops Mr. Perlmutter will explain that it is only by regularly employing the Conscience that we will find the Truth and discover the strength, wisdom, creativity and confidence we need to resolve the seemingly unresolvable. Our task then is to learn how to train the mind so we can heed that quiet, reliable voice of the Conscience.
According to Leonard Perlmutter, "In these polarized and anxious times, each of us has a role to play in bringing more understanding and compassion into our relationships and the nation. The key? We must learn how to coordinate the loud, insistent, limited perspectives of the ego, senses and unconscious mind so that they support our Conscience—our ever-present connection to the Truth."
A recent comprehensive study of Perlmutter's previous students showed numerous benefits from this curriculum including reduced stress and anxiety; improved energy and focus; relief from issues like headaches, high blood pressure, and chronic pain; increased creativity; and greater happiness and optimism. Perlmutter's Foundation Course curriculum is certified for continuing education credits (CME) for physicians and nurses by the American Medical Association and American Nurses Association, and endorsed by medical pioneers Dean Ornish MD, Bernie Siegel MD, Larry Dossey MD and Mehmet Oz MD (Dr. Oz).
"Your Conscience," an easy-to-read handbook with simple experiments to practice using your Conscience will be published by AMI Publishers in September 2021. It is only through our personal experience of testing the wisdom of the Conscience that we learn to trust it as the only reliable guide to making better choices.
About the American Meditation Institute
The American Meditation Institute is a 501(c)3 non-profit educational organization devoted to the teaching and practice of Yoga Science, meditation and its allied disciplines as mind-body medicine. In its holistic approach to wellness, AMI combines the healing arts of the East with the practicality of modern Western science. The American Meditation Institute offers a wide variety of classes, retreats, and teacher training programs. AMI also publishes Transformation a quarterly journal of Yoga Science as holistic mind-body medicine. Call 800.234.5115 for a mail or email subscription.
More resources and information about National Conscience Month are available at ConscienceMonth.org.
Leonard Perlmutter, founder of National Conscience Month and The American Meditation Institute is available for interviews.
To schedule an interview, please contact:
Media Contact:
Robert Washington
American Meditation Institute
60 Garner Road
Averill Park, NY 12018
Tel: 518.674.8714
Fax: 518.674.8714