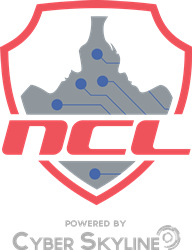 CHEVY CHASE, Md. (PRWEB) May 13, 2021
NCL Fall 2021 Season Dates Released
The National Cyber League (NCL), powered by Cyber Skyline, has announced its current competition leaderboard for its Spring Season, and Team IrisSec (primarily from University of California - Merced) tops the list for the second consecutive NCL Season. This was IrisSec's third season participating in the NCL Competition.
Excelsior College – the r00ts; and Michigan Technological University – RedTeam took 2nd and 3rd place, respectively. The top three teams achieved 100% completion, while IrisSec surged ahead with 97.13% accuracy. The full list of 922 team placements, showing points, accuracy and completion percentages, is available at this link.
During the April monthly NCL Coaches Call, guest students from IrisSec and RedTeam@MTU described their experience. They discussed their difficulty cracking some of the challenges, specifically in the Password Cracking and Enumeration categories. They highlighted the importance of diverse skillsets among the team players, not only to complete the challenges, but also to continue learning. By collaborating, comparing and critiquing approaches and solutions with one another online, they were able to ensure a superior level of accuracy.
NCL is a biannual cybersecurity competition for high school and college students consisting of challenges to test and build their cyber skills. Students learn how to better identify hackers from forensic data, recover from ransomware attacks and break into vulnerable websites. Students compete and not only represent their schools, but also receive "Scouting Reports" of their individual performance, which verify in granular detail their hands-on cybersecurity skills to potential employers.
The top three schools out of 520 colleges and universities that participated in the Spring NCL Season were Excelsior College, University of Alaska Anchorage, and Michigan Technological University. An additional 60+ high schools participated. In all, 6,380 students (including high school students) competed. The top 100 colleges are listed in Cyber Skyline NCL Cyber Power Rankings each season.
Every year, more than 12,000 students from over 620 academic institutions across the U.S. participate in NCL. They are ranked based on team, individual and aggregate individual performances, which represents the abilities of these students to perform real-world cybersecurity tasks on the Cyber Skyline platform.
NCL has released its Fall 2021 Season Dates:

Registration Opens: August 23
Gym Open: August 23 - December 17
Preseason Game: October 11-18
Individual Game: October 22-24
Team Game: November 5-7
The NCL Annual Report is accessible at this link. For more information on NCL, partnership opportunities, sponsorships, coaches' resources, or how to compete, visit nationalcyberleague.org.
About the National Cyber League:
Founded in 2011 by an alliance of public agencies dedicated to developing the next generation of cybersecurity professionals, the NCL is a nonprofit cybersecurity competition that measures the ability of students to perform real-world cybersecurity tasks. Powered by industry-leading cybersecurity skills evaluation technology from Cyber Skyline, the competition has students identify hackers from forensic data, break into simulated bank websites, recover from ransomware attacks, and more.