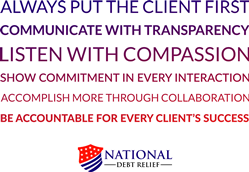 We're excited to announce the launch of these values. While they may seem new, they have been a part of our culture since our founding. They serve as our company's guiding principles that help define our direction, shape our decisions, and execute our mission today, tomorrow, and beyond
NEW YORK (PRWEB) May 09, 2019
National Debt Relief has updated its core values to reflect its increasing focus on a strong company culture and an emphasis on client satisfaction. These values demonstrate NDR's unerring commitment to excellence in every facet of its business.

Always put the client first
Communicate with transparency
Listen with compassion
Show commitment in every interaction
Accomplish more through collaboration
Be accountable for every client's success
As CMO Grant Eckert said, "We're excited to announce the launch of these values. While they may seem new, they have been a part of our culture since our founding. They serve as our company's guiding principles that help define our direction, shape our decisions, and execute our mission today, tomorrow, and beyond."
The revamping of these core values is part of National Debt Relief's continuing efforts to provide the most updated service to its clients and employees alike.