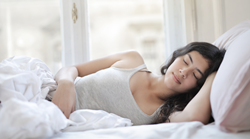 In addition to healthy pre-bedtime rituals and daily routines, the mattress can play a bigger role in your sleep quality than you think. Depending on the type, it can create a hot sleep environment which may account for disruption throughout the night.
CHAGRIN FALLS, Ohio (PRWEB) October 19, 2020
Both the COVID-19 pandemic along with October's National Emotional Wellness Month is raising the question of how to boost the immune system, reduce stress levels and promote greater mood regulation for many nationwide. For Barry A. Cik, Board Certified Environmental Engineer, Founder and Technical Director of Naturepedic, the answer lies in improving one's sleep quality.
Sleep quality plays an extremely important role in strengthening the immune system, influencing next day mood, and helping to tackle the next day's stress. However, according to the Better Sleep Council (BSC), a new survey found that as of March 2020, quality of sleep in America declined further as overall levels of stress spiked with the arrival of COVID-19. In fact, 52% of Americans qualified their sleep as poor or fair.
Though when it comes to improving sleep, Cik asserts, "In addition to healthy pre-bedtime rituals and daily routines, the mattress can play a bigger role in your sleep quality than you think."
Why? It can affect the body's heat-regulation cycle. Research has shown that a cooler more comfortable sleep environment can help the body maintain a normal temperature, which is fundamental to sleeping throughout the night. In fact, another study revealed people who sleep in hot environments have been found to have higher levels of cortisol, the stress hormone, the next morning.
However, Cik underscores that conventional foam mattresses may have a detrimental effect on body temperature. "Polyurethane Foam (certainly including memory foam) is made from petroleum which doesn't breathe and can make you feel hot and sweaty. In essence, it creates a hot sleep environment which may account for disruption throughout the night," he explains. "When it comes to sleeping comfortably in hotter temperatures, you'll want to avoid foam mattresses for these reasons, including ones that advertise their cooling gel properties. More often than not, these types of gel mattresses are usually laden with toxic chemicals that reduce body heat only temporarily. Choosing bedding made with natural, organic materials is the easiest way to transform your sleep environment from hot to comfortable."
Committed to improving sleep quality, safety and health, Naturepedic's GOTS-certified organic, nontoxic mattresses are made with organic cotton fabric and fill and other materials approved by the Global Organic Textile Standard (GOTS), helping to wick away moisture and keep consumers comfortable while they sleep, while eliminating use of hazardous and questionable chemicals and materials such as flame retardants, formaldehyde, pesticides, glues/adhesives, PVC/phthalates, etc. As well, the Naturepedic organic wool topper also has excellent temperature-regulating qualities.
In addition to opting for a natural, organic mattress to help regulate body temperature, Cik recommends, in accordance with the National Sleep Foundation, keeping the bedroom between 60-67 degrees, to help the body stay cool and achieve optimal sleep.
"With a recent study from scientists in Germany finding an even stronger link than previously thought between sleep and the immune system, along with findings that cortisol, the 'stress' hormone, is influenced by length, timing and quality of sleep, it is more critical than ever during these difficult times to improve our sleep quality, which will in turn support our emotional wellness and health," states Cik. "It's imperative to create an optimal sleep environment to ensure we reap the restorative benefits of a restful sleep. At Naturepedic, our hope and mission is to help make this possible through consumer education and transparent, organic, toxin-free products."
For media inquiries, please contact Sara White at sara@adinnyc.com or 914.621.1323
About Naturepedic:
Since 2003, Naturepedic has been on a mission to protect the lives of families through safer and healthier organic-based mattress and bedding products that have a positive impact on the environment. A brand with purpose, transparency and ethical practices has made Naturepedic the most respected company in the mattress and bedding industry today. Committed to Made in USA, they source organic cotton grown by Texas farmers, and purchase steel and innersprings and other materials from U.S. manufacturers. Naturepedic products are made in their own factory in Ohio, and are certified by MADE SAFE, GOTS, OCS, Greenguard Gold, UL Formaldehyde Free, GOLS and/or Forest Stewardship Council/Rainforest Alliance. Naturepedic is an EPA Green Power Partner and is also recommended and/or awarded by American Sustainable Business Council, Green America, 1% For The Planet, Women's Voices for the Earth, The Ecology Center, Practice Greenhealth, EWG, Sustainable Furnishings Council, Zero Toxics Product Registry, Allergy Kids Foundation, Kids For Saving Earth, MaxCure Pediatric Cancer Prevention Initiative, HealthCode, Walton Children's Enrichment Center, Turning Green, Center for Environmental Health, and many others. Since its inception Naturepedic has been a consistent, generous advocate and supporter of NGO's and nonprofits advocating for "Right to Know" about what is in the products they bring into their homes.