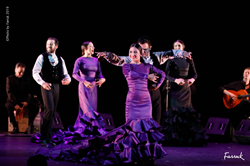 ALBUQUERQUE, N.M. (PRWEB) May 20, 2020
The National Institute of Flamenco has risen to the challenge of programming workshops and performances in lieu of the Institute's flagship Festival Flamenco Alburquerque. The Institute will hold a virtual celebration of the Festival, featuring online workshops in flamenco music and dance for youth and adults of all levels and streaming performances by today's best flamenco artists in Spain and the United States, as well as lectures and artist talkback sessions.
In the spirit of the Institute's mission, this exciting week of programming will showcase excellence in art and education while remaining widely accessible to a variety of students and patrons.
Detailed information about scholarships and registration will be posted on the official Festival Flamenco website at NIFNM.org on Friday, May 22. Artist announcements will be coming soon.