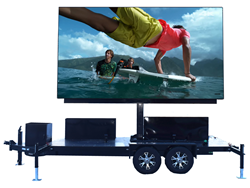 Insane Impact's partnership with DOSE has come as a result of a large increase in demand for their retail mobile display products.
URBANDALE, Iowa (PRWEB) February 14, 2020
Insane Impact LLC, a leading national provider of LED video walls, has partnered with custom steel shop and trailer manufacturing company DOSE Steelworks, Inc. to build their MAX product, their retail lineup of mobile digital billboards.
Insane Impact's partnership with DOSE has come as a result of a large increase in demand for their retail mobile display products. It will allow them to streamline production and continue to offer competitive pricing with a premium product.
"This manufacturing partnership just made sense," says Tod Puetz, Founder and CEO of Insane Impact, LLC. "We have been working together over the last 18 months and as our business has grown across the US and globally, we needed this strategic partnership to take our product deliverables to the next level."
The partnership will also let Insane Impact continue to innovate the LED display and its components while DOSE focuses on building a structurally solid, turnkey product.
"Our partnership with Insane Impact is valuable to both companies and will ultimately provide the best product and experience to the customer. We will bring our knowledge and expertise to the partnership with steel fabrication and design. Insane Impact will bring their knowledge and expertise of the audio-visual LED markets. With our companies' goals and visions, together, we will make a great team." Brett Dose, President and Owner of DOSE Steelworks, Inc.
Scott Vandever, General Manager of DOSE Steelworks adds "Our knowledge and expertise in the trailer manufacturing industry has provided Insane Impact with confidence in delivering a quality product to their customers. We continue to invest in state-of-the-art custom fabrication equipment and powder coating capabilities that will separate Insane Impact's line of MAX Trailers from the competition."
MAX Mobile LED was introduced to the marketplace in 2017 as a retail product for events. Since then it has evolved in scope and quality to include a lineup of advertising trailers and limitless customization opportunities. The DOSE partnership will further expand the scope of their customization offerings.
"Our focus is and always has been creating premium products that will give the end user the ultimate experience" Says Puetz. "By bringing this partnership to fruition, it will allow us to continue to innovate and provide premium customer service to our clients while DOSE takes the products from purchase order to delivery."
About DOSE Steelworks
From their growing manufacturing facility in Bouton, Iowa, DOSE Steelworks produces the highest quality steel products made from the best materials available. Their experienced staff are trained and knowledgeable, ensuring our products are durable and stand the test of time. Since DOSE Steelworks was established almost 15 years ago, they have produced over 3,000 trailers for customers on an international scale.
About Insane Impact
Insane Impact is a national provider of premium LED video walls for LED rental, sale, and install. Their "think like the customer" mentality enables them to create new and innovative products that transform experiences. Their mission is to deliver first class service with state-of-the-art products that create lasting impressions.